On Loosing Weight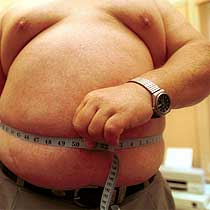 Philippines
April 18, 2007 11:16pm CST
I am 5'7" tall and i am 180lbs, i am planning to lose weight for me to be able to move quickly and to look good too. I am now in to morning jog and im planning to go to the gym for the trimming. But still, i have a doubt if i can do it fast. I dont have any programs yet. For my height, the average weight i guess was just around 160-165lbs. What can you say about it? Any suggested routine or programs for me? can i do it for a period of 2 monthss?
1 response

• Australia
19 Apr 07
Apart from exercising you should also change your eating habits ... no junk food, no fat and no sugars either. Plenty of fibre, wholegrain bread, minimum 5 servings vegetables every day, fruit every day, lean meat only, no added sugar. Drink plenty of water .. at least 8 glasses per day .. and you are better off having 4 small meals per day rather than large meals. Eat breakfast every day ... porridge is good as it has fibre plus is also filling or perhaps cereal but make it a healthy cereal. Jogging is not necessarily good for you as it can put a strain on your body .. and more so when you are overweight. Walking is much better ... it is something that you can do anywhere and at anytime that suits you. You can increase your pace, distance and speed you walk every day .. or as you feel able to cope with it. You can also make your own weights ... a 1lb/500 g can in each hand will do very well as a weight ... a gym is okay is you need that sort of organised exercise but try to do it on your own will be much cheaper for you in the long run. A couple of months is fine .. that means you are talking about 2lbs a week. At first you will lose more than it will slow down ... initially it is mostly fluid that you use rather than fat. Do not think of it as a diet .. but a lifesytle choice that you are making.

• Philippines
19 Apr 07
Wow, dats great. I am amazed with your suggestion. i am also looking for more.