Is it time for The Simpsons to retire?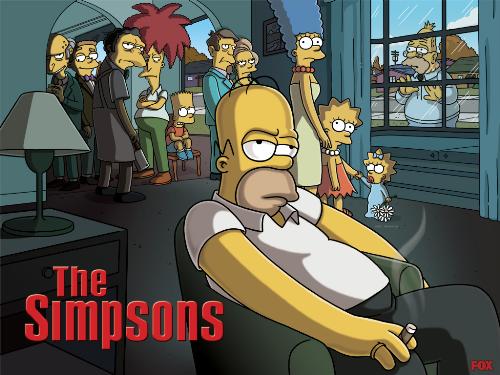 United States
April 19, 2007 12:53am CST
I think I was in eighth grade when The Simpsons first aired, in 1989. While I thought it was an amusing show, I never imagined that it would last for 18+ seaons. I catch the odd episode every now and again, but don't watch with quite the same fervor that I did all those years ago. Recently, I read an article going on and on about how the time has come to pull the plug, but it didn't do that good of a job convincing me why. What do you guys think? Does it still have some life left in it, or should they drop the curtain?
8 responses

• Canada
19 Apr 07
This is JUST my opinion, so I'm sorry if i offend anyone, i didn't intend to do so. Okay, now that that's cleared up, i actually do think they should pull the plug, that show is degrading, disgusting, and really shows kids how to act, i mean, people wonder why kids have so little respect for their parents and really anyone in the world, why there's so many violent, idiotic, destructive, vandalizing, disgraceful things going on with kids, yet they let their kids watch this show, as just one of the shows that cause this. I just don't think it should be on tv, it's not allowed in my house at all period, and i don't even have kids, no one's to watch it, listen to it, or otherwise, you want to watch it, you can do it elsewhere, because i don't condone that kind of disrespect in my home, and i don't at all one bit appreciate the family degrading material. So yeah, pull the plug already, it shouldn't be on tv in the first place in my eyes... Yet again, JUST my OPINION and not to upset anyone, just my personal feelings on this show and others such as king of the hill, and more.

• United States
19 Apr 07
I can only speak for myself: I wasn't offended at all. While I find some of it amusing, I know exactly what you mean. Your response begs the question: Have you ever watched an entire episode of South Park? *grin*

• United States
19 Apr 07
Ack! I didn't mean that I found your response amusing, but the show . . .

• Canada
19 Apr 07
oh that's fine hun haha, my father was into south park, and that one's a billion times worse... I just get so frustrated when people tend to complain about the way the world is going, yet their the ones putting these shows on for their kids, and letting them turn into that, you know?



• United States
13 May 07
I know what you mean. When a show lasts for a certain amount of time, watching it becomes something of a tradition. Thankfully, they make their way to DVD, with lots of added extras, so we can reminisce.

• Philippines
19 Apr 07
nope.. i dont think so.. my boyfriend really crazy on that show.. He might be crazy literally if The Simpsons' airing will stop..

• United States
13 May 07
You could always buy him the entire DVD collection . . . it should only run for a thousand dollars, or so. *grin*

• United States
19 Apr 07
It's still a great show. Only now I feel that they aren't as funny as they used to be. Their satire and criticism of the world is waning. They've lost some of the edge... Maybe the simpsons do need to retire. Perhaps after one great season :) (that would be nice). 18 years is a long time for a kid to stay in 4th grade :)

• United States
13 May 07
Bart Simpson should be pushing 30, methinks! Maybe time moves differently in Springfield. *grin*

• United States
19 Apr 07
Who would have thought way back then that it would stay on the air for so long? It's still one of my favorite shows, so I hope that they continue to make it as long as they still have fun stories to tell. I can't help but wonder if any of the actors who do the voices are tired of it yet, but I'm sure that it pays well, and it leaves a lot of time open for them to work on other projects, too!

• United States
13 May 07
I'm sure some of the actors are tired, but for what I assume they're getting paid, tired takes a comfortable seat on the proverbial back burner.

• United States
19 Apr 07
it still has it's moments..but it's not as funny as it used to be.you'd think after 18 years,maggie'd at least be talking by now LOL

• United States
19 Apr 07
Yeah, everytime they show maggie in the future, they always show her sucking on her pacifier :))

• Portugal
15 May 07
ifthe simpsons would end i think they would probaly start making the simpsons 2 lol or something like that and tye are on the air 18+ years because they had nad still have hight audience

•
13 May 07
its amazing how long its lasted for. The film is coming out soon and i think it will carry on even after that.