Why do you think these things happen in the US?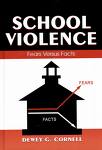 Philippines
April 19, 2007 1:08am CST
I'm just startled as to why violence seem to be creeping in US. We see it in the news ... 9/11, the sniper incident, the mass killing in school? Why is violence gaining momentum on the land of milk and honey? Do you think that the culture of the young is getting worst? or there are only loose end policies which needs to be addressed? What do you think?
2 responses

• Israel
20 Apr 07
i know that the us is involved in helping many countries. I do know for example that the us is helping Israel in her war with the Arab nations, and there is always a side that does not like that, and that is the results. There is also the situation that a lot of people from countries that nurture hatred are living in the u.s. and they act from inside. I do know that almost every country had her share of terrorism, and i do think that countries, and especially the US which are very open in their welcome to other people from different countries, should start and check to whom they should let have a permission to enter their state. i know they are doing that, but it should be more secured. I do hope that those terrorism and hate events would not occur in the future, but i do have a hard time believing that it won't happen.

• United States
19 Apr 07
I think it is nothing new, just covered more often by all the news channels. The more it is covered the more some people feel empowered by publicity. Many young people do not get the concept of finality. Drive by shootings, murder, gangs all seem to show that to some a weapon is power and that they are in control. I often wonder why the young people treat their lives and those around them the way they do. This morning there was a murder here in Houston ofter a dice game. Go figure.