how many times you've BEEN TO A HOSPITAL?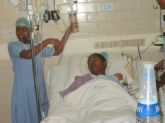 Philippines
10 responses


• Philippines
20 Apr 07
i've been in and out of the hospital lately for check-ups. i have to visit my doctor frequently because i am into a work up. i haven't stayed in the hospital yet that i am the patient. the last time i went there was when my husband was operated. i like the hospital, depending on the type of it. there are some hospitals that don't smell like one and some has this odor that even if your already far from here you still smell the "hospital odor".

• Singapore
20 Apr 07
Thank God that I've only been there twice in my entire life. This is both to deliver my two children. I like the hospital which I'd stayed because the room is big and nice with nice decor too. The services rendered by te hospital staffs are good too. If given a choice, I would still go back to the same hospital if need be.

• United States
19 Apr 07
Well lets see 5 days a week LOL I work in a hospital. I have only been in a hospital 2 times for me 2wice for my fiance , and also 2 times with my mother. A few times when my aunt was here. When my friends were in the hospital i came to see them. I have came to see other family memeber in the hospital.

• United States
19 Apr 07
I have been to the hospital when I got stiches, when I got my tonsils and adnoids removed, and when I gave birth to my son. I usually have gone to Provena Mercy Center in the past, because the service is excellent. When I had my son, I was well taken care of by the staff and by my midwife. I didn't feel the hospital staff was intrusive or detached, which doesn't help the patient to relax. As long as the hospital doesn't resemble a morgue via it being cold, metal, and white, I am good. I am even better with a few homely decorations and items that obviously help the patient to relax more.

• United States
19 Apr 07
my last few experiences at the hospital have been a fight with cancer so it has been horrible. i have been a little to distracted to give a true sense of what the ambiance of the scene was. i will try to focus on that when i go back, next month lol. that might make the trip there a little better, take my mind off the real reason i am there!!

• Philippines
19 Apr 07
my mom told me that when i was about two years old, i would often be confined in a hospital. but i don't remember them really.. so, i don't count them. i've recently been confined to the hospital last january. i was having a very terrible headache. my head seemed to be pulsating for more than 24 hours already and i don't really have migraine. i stayed for about four days. i don't really like the ambiance. but i don't it's a great way for me to rest since as my doctor said, i was just in a lot of stress and i need to have a full bed rest.