Grandparents, where do you draw the line?

United States
April 20, 2007 6:51pm CST
Okay, my dad and my step mom really love my kids and do alot with them. My only problem is that they do things or let my kids do things that they know I don't normally do or let them do. When my mom used to do this I had no problem telling her not to. For some reason it is a little different with my dad and step mom. I say things nonchalantly but it doesn't seem to get through. I don't want to hurt their feelings but sometimes I wish they would just do what I ask. How do you deal wiht this type of situation?
8 responses

• United States
21 Apr 07
Well, I am a grandmother of 5 and I would never intentionally let my grandchildren do something that I know their parents wouldn't allow. I love my grandchildren and can spoil them as grandparents will without going against the parents rules or ideas. Doing this is only going to cause problems for the little ones by confusing them. I don't know how your father and step mom would take it but I would suggest just setting down with them and explaining the situation - you don't allow the children to do such and such and it confuses them when the grandparents let them do it. Try to work things out together as a team doing what is best for the children.

• United States
21 Apr 07
Hi Jchampany, Wow, this is a tough one. I tend to believe that a grandparents role is somewhat indulgent. They've been through the hardships of having to be the parent ... setting rules and boundaries. I think that as people get older, kids are their link to life. If the indulgences aren't in direct contradiction to your values, then I think it's best to let kids and grandfolks have some fun together. I would say to set the boundaries with the grandfolks, then let them indulge in less obtrusive ways. In the end, it will be better for your kids to experience the joys (and indulgences) that bond kids to their grandparents. Even though your stepmother isn't your own mother, she may bring grandmotherly love to your kids. I know my mom would have had a cow if she knew how my grandmother indulged me. But, that's what made my relationship with her special. It was 'our little secret'. Good luck with this one. I hope the grandfolks can respect the boundaries that you set for them. But, please do consider letting them have some fun, too.

• United States
23 Apr 07
You know, it's not big things, it's the little things. I do just roll with it and bite my tongue but occasionally it does bother me. I know my kids have fun there and they are my only dependable babysitters, so I guess I can let some of it go.

• United States
21 Apr 07
I know that it can be very difficult, but I have learned to be very laid back about this issue. It really can be tough, but my best advice is that you should really pick your battles, and save them for the extremes. If there is something that you really feel is dangerous, or bad for your child's health, whether emotional or physical then you should defintely speak up, but try to think out what you want to say, before you do it. I have the same problem with my dad, although my mom has never been a problem since she has been the leader of a day care for about three decades. My dad was the same way, when my brothers and I were growing up, but he has just gotten worse, since these are his grandkids. My dad usually says that it is a grandparents right to spoil the grandchildren, and it is the parents job to fix them again.


• Australia
22 Apr 07
I feel the same way, my Mum wants more time with my daughter than i think is necessary. I mean, i want her to have a relationship with my daughter but trust me, weekly then fortnightly (bi-weekly) visits are just too much! Not only that, we don't seem to be getting the time we deserve with our own daughter coz i cant bring myself to tell Mum no & when i do say no, i get a guilt trip & made to feel guilty for making my own decisions about my own daughter. I am pushing with it for the moment coz i am sick of being told i'm cutting my Mum out of my daughter's life. So far, my Mum has managed to take over my partners 1st Father's day - Xmas was ruined coz we weren't home much, then came Easter, Mother's Day is just around the corner & then it's my daughter's 1st birthday. I have to get the courage up to say something - maybe you should try sitting your Dad down & letting him know you're not happy with how things are going - if it doesn't work, then maybe the visits should be cut back a bit - which means if they wanna spoil your hard work :) then it wont be done as often as it is now! I wish you well & hope you manage to get it sorted without having to resort to the 2nd option!

• United States
23 Apr 07
Well, after reading all the comments, I realized that my problems with them aren't that great. It's routine stuff that they blow out of whack. Not major issues. And I know they would never do anything to put my children in harm's way. It's not morals, my parents are devout christians. It's things that sometimes blow my routine out of whack and that's it. So I have decided to just bite my tongue and let them enjoy each other.

• United States
21 Apr 07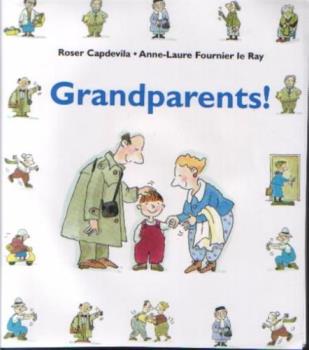 You don't say what it is they are doing that is bothering you so much. But saying that I think you should be happy that your children have grandparents that love them. Being a grandparent myself I tend to spoil my grandchildren. I love them so much. So unless they are causing dangerous situations or bodily harm I would have to say let the grandparents enjoy them and the children enjoy the Grandparents.

•
21 Apr 07
Wow honey this is a delicate one! I would say that at a time when you are with them and there are no problems you explain to them that you really appreciate everything that they do with your kids but there are some things that you do not like them doing or letting your kids do- explain nicely how it is against your rules for the kids and just confuses them and blurs the lines of what they should and should not be doing which could cause bigger problems in the long run! Tell them that you do not want to argue over these things but that they are upsetting you. Try to compromise with the smaller things so that no one feels unapreciated or hurt and I am sure that they will bend over backwards to support you! Good Luck Honey! xxx

• China
21 Apr 07
I don't like to draw online.

• United States
23 Apr 07
What?! I don't think you are responding to the right discussion.

• United States
23 Apr 07
Oh wait, I get it now. My question is where do you draw the line. You would have had a better answer if you would have read the WHOLE discussion and not just the title. It's not about drawing at all. Thanks.