When did you stop playing dressup?

United States
April 20, 2007 7:58pm CST
I remember how fun it was to play dressup as a little kid. My imagination would be stirred by pretending to be someone else, just by changing costumes. I think I outgrew it by the age of ten. The last time I remember trying on my Mom's clothes though, was when I was about 16 and needed something for work. I thought about it again recently when I ran across a picture of my daughter who was still trying on my dress up clothes at 16, lol. I did a dress up/dress down collage for my daughter back in 2000 and if you'll check the bottom left side of my profile, you'll see her in the lower right corner of the blue collage wearing the same dress I wore to a work related social function, http://good-times.webshots.com/photo/1013977942026853462cOVYmSClJJ. Can you tell I surprised her, lol?
3 responses

• United States
22 Apr 07
I agree with BarBaraPrz - why do you need to stop. It is still fun but the dress up just seems different. Of course my daughter is at the right dress up age and loves to do and drags me into it also, so maybe that is why I have not stopped. I think it is a great way to use your imagination no matter how old you are. the situations you play out may be different, but I still think they are exciting.

• United States
23 Apr 07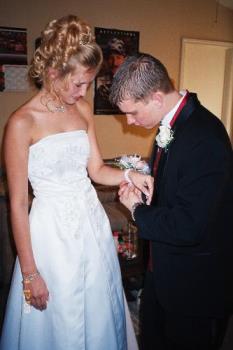 LOL, ok now, I'll have to admit, when you put it that way, I did play dress up with my daughter more recently. I have to say, she really did appreciate my help for Jr & Sr prom, lol. I've attached the photo I took of her before she left for junior prom. Can you imagine what she'll really look like as a bride after seeing my first time playing "big girl" dress up with her? ps. Upon further consideration......I'm looking forward to playing with grandbabies sometime in the next decade too. Maybe we're never too old to play dress up after all. :D

• St. Catharines, Ontario
21 Apr 07

• United States
25 Apr 07
You mean I am not supposed to play dress up anymore? Oh man! You just broke my heart!!! LOL Seriously, there are still times that I will just dress up because. I have even been spotted wearing my partner's clothes. :) And I have a Renaissance attire. Very awesome...but I wear that mainly on Halloween.

• United States
25 Apr 07
LOL, didn't mean to startle you like that. After starting this discussion, I did realise you never actually have to stop. You just have to change how the game is played a little, giggle. :)