Are you time conscious?

Philippines
8 responses

• United States
21 Apr 07
time for me is so important!i don't wanna waste any second of my time,coz we never know what could happen,we only have one chance on earth,and there's no reason to waste it.

• Philippines
21 Apr 07
you have a very good attitude, this can help you to be a better person too. Yes we must not waste our time, whatever we can do for today we must not wait for another day.

• Australia
21 Apr 07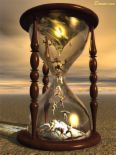 I am a time conscious person, I know we cannot rewind back, therfoe, I wil lalways try to do somthing that is meaningful and not waste the time. If you are time consciuos, you will have a better managemnet in time and you will do things more effectively without delaying anything, your life will also be more meaningful.

• Malaysia
24 Apr 07
Yes, agree with you. We'll be more productive if our time is organised properly. However, strong determination is needed in order to do what you plan. For me, i'm not that strong enough as i don't do most what i've planned.

• Philippines
23 Apr 07
Yes I am. I do recognized the importance of time. Time is gold. We must spend it wisely. It helps us in attaining our dreams. At Indy 500 (race), the grand winner won the said race by 1.54 seconds. And the winner won $1,261,000 while the second prize got $620,000.00. A difference of $600,000.00. Just imagine that!

• Malaysia
21 Apr 07
Yes, I'm conscious and I always try my best to value my time especially when one is aged there is not much time left for one. For young people though they are plenty of time they must value their time as well otherwise they will simply waste their time and get nothing fruitful at the end later on.

• China
21 Apr 07
well,I'm not that lucky to be a time-conscious person... I spent two years of my college without knowing what I am doing... but now things are much better for me,I begin to be restrict to myself,and of course,my time consciousness improves a lot~~ but I can feel when I am doing a particular work,it always turn out to be low efficient... so it is time for me to improve my time conscious,and also the efficience of doing anything~~~

• Philippines
21 Apr 07
I am a very time conscious person. It may sound cliche but I am a firm believer in the saying that time is gold. I hate to wait and I hate letting others wait for me and waste their time. I am more productive as a person and as an entrepreneur when I am time conscious.