life is funny and this made me smile this morning will it you?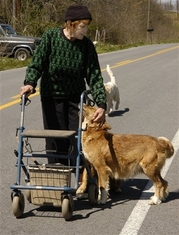 United States
April 21, 2007 8:27am CST
i went to my home page and i saw this. i know alot of us use different places as a home page so i thought i would bring this to you attention. it is really funny but great at the same time. miss america from 1944 just shot the tires out of a robbers vechile that was trying to rob her. she uses a walker and had to try and do this while hanging on to the walker. the dogs went after some men in her shed on her farm that were taking her stuff she got a gun and they told her they would just leave. you have to think she is in her 80's. she told them they would not leave and shot out there tires. lol if you want to read the story whic i am telling you it is really good go to http://news.yahoo.com/s/ap/20070421/ap_on_re_us/brave_beauty_queen when you think of miss america you dont think about a woman with a gun playing cops lol. you think about hair nails and bueaty. lol
2 responses

• United States
21 Apr 07
easymoney, I saw the same article when I logged into yahoo this morning. I for one thought it was poetic justice that a little old lady would take some justice into her own hands and not let the theives get away without the law getting involved as they should have been. It served them right!lol I really would have loved to have been there to see it though! ;0)

• United States
23 Apr 07
I think this is so good!! I hope they learned their lesson.