Do you like hanging around smart people?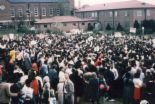 Taiwan
5 responses

• Canada
22 Apr 07
well since I am a smart person, I do love to hang around with them and express all kinds of wonderful things together. I still love to learn too.

• Australia
21 Apr 07
I do not care whether a person is smart or not, as long as he/she is nice , iwill treat them as friends and hang around with them. Sometimes, some smart people tned to be arrogant, they are so stuck up that they do not want other people to approach them,in this case , i choose not to hang around with them.

• Australia
21 Apr 07
I don't really judge people on their brain ability, I don't like being around people who are show off clever people, maybe because I am not what you would call a clever person but I have found a lot of people who are book clever don't have common sense, so I guess I feel more comfortable with average people...

• Kottayam, India
21 Apr 07
I appreciate the stand you have taken.

• United States
21 Apr 07
mostly I don't smart people tend to be mean not always but 80% of smart people are mean too