how many of you hang clothes outside to dry?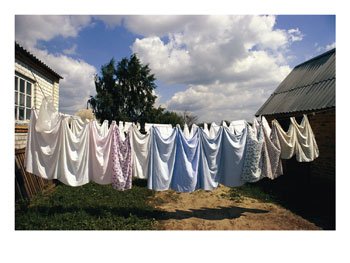 Canada
April 21, 2007 9:57am CST
My dryer broke on Wednesday and of course with buying the house and the renovations all our money is tied up right this second, but we can have a repair guy coming on Monday. But we do have clotheslines supplied my our landlord and we are right on the harbor so you can imagine the breeze and its warm and sunny. So yesterday i ventured out bought so liquid softener and washed some whites and hung them to dry. they came out beautiful and John remarked his work shirts didn't feel tight putting them on first thing in the morning lol.My Mom and even myself used to hang laundry all the time but it seemed I got away from it because I would do laundry in the evening or couldn't be bothered hanging out and taking in. But today I did the sheets and watching them blow in the wind and how good they smelled coming in off the line. I told John no rush for the dryer .I like the thought of saving on power, it does save wear and tear on your clothes, and plus its good exercise . So how many of you still do this go with you basket to the line and hang out your undies? PS my undies are drying in the house lol.. have a great weekend all Cheryl
4 responses

• Australia
22 Apr 07
I try to hang all my clothes on the outside line, all year around. In winter, if it is raining, it can be difficult. I have a drier, but they use a lot of electricty. What I do if it is raining, is hang clothes on one of those portable hangers, in the family room. This doesn't work if I have too many clothges, and it does make the house look messy. On some occassions I do need to use the drier.

• United States
21 Apr 07
When I was little my mom used to always hang stuff out to dry during the spring, summer and fall. She had to dry stuff in the dryer sometimes, though, because there were 6 kids plus her and my dad to do laundry for during part of the summer. 4 kids (2 of my sisters are half) and my parents, full time. We used to love playing out there and "helping" even though we couldn't reach the line. She quit doing it before my little sister or I were tall enough to reach the wire, because we got a dog when I was about 6 that would tear the clothes down! He would take them down and then put them all in his dog house and guard them. My little sister would have to sneak in while someone else played with him to get our clothes back! I wouldn't be able to hang clothes out now because of my back. We wouldn't really have anywhere to put a clothes line either.

• Canada
21 Apr 07
It'a a little more work for me to hang clothes but oh there is nothing better than going to bed on fresh sheets that hung to dry on the clothes line. That fresh outdoors smell... I love it. The dryer is an easier way to dry your clothes but you don't get that fresh smell and using the dryer will increase your power bill. I hang everything on the line even my panties, I think everyone should wear some and if anyone see mine at least it's obvious I wear some, that don't bother me.

• United Kingdom
27 Apr 07
All the time! There's nothing nicer than clothes that have been hanging out on the line! I hate tumble drying my clothes, it's unnatural and it creases them, when you put them out on the line they smell so fresh and have less creases, trouble is you need the good weather! Thankfully we have been lucky and my clothes have dried quickly, it is so much cheaper too, running the tumble drier is a costly business, so I always hang my clothes out!