what do you think of this version? When the Stars Go Blue by The Corrs and Bono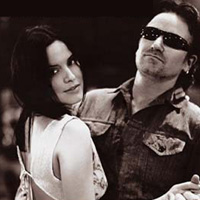 Philippines
April 21, 2007 10:57am CST
The song 'When the Stars Go Blue' was originally sung by Bryan Adams, meanwhile The Corrs & Bono, and Bethany Joy Lenz & Tyler Hilton have their own versions as well. Which one is the best version for you? Mine is the version by The Corrs & Bono. Link to Video -- http://www.youtube.com/watch?v=XV_dbCF1jOA ---------------- LYRICS ---------------- Dancin' where the stars go blue Dancin' where the evening fell Dancin' in your wooden shoes In a wedding gown Dancin' out on 7th street Dancin' through the underground Dancin' little marionette Are you happy now? Where do you go when you're lonely Where do you go when you're blue Where do you go when you're lonely I'll follow you When the stars go blue, blue When the stars go blue, blue When the stars go blue, blue When the stars go blue Laughing with your pretty mouth Laughing with your broken eyes Laughing with your lover's tongue In a lullaby Where do you go when you're lonely Where do you go when you're blue Where do you go when you're lonely I'll follow you When the stars go blue, blue When the stars go blue, blue When the stars, when the stars go blue, blue When the stars go blue When the stars go blue, blue, blue Stars go blue When the stars go blue Where do you go when you're lonely Where do you go when you're blue, yeah Where do you go when you're lonely I'll follow you, I'll follow you, I'll follow you I'll follow you, I'll follow you, yeah Where do you go, yeah Where do you go, where do you go
2 responses

• India
23 Apr 07
I just love this song. By the way it was originally sung by Ryan Adams. :D. Did you hear the live in dublin version with the violin. it really is good and a must hear version. (:D in the end Andrea and bono od a little dance.) The remix too is good in their dreams collection.

• Philippines
4 May 07
Yes I heard the Dublin version, it's really good too.

• United States
15 Jul 07
I love, love, love this version of the song. I have heard Tim McGraw's version and apparantly it was pretty popular but I can't listen to it. It just doesn't have the beauty that the Corrs & Bono's version does. I also heard someone do this song on this last season of "American Idol". It was terrible.