CASSOWARY ... A Bird That Can Kill A Man Or AN Animal !

Thiruvananthapuram, India
April 22, 2007 12:09pm CST
The mentioned bird is a species of birds that can kill a man or an animal by tearing its prey with its dagger-like claw. Surprisingly enough , Do we not more dangerous humans amongst us who can rip open your heart and devour it ..never getting satiated !!!
4 responses

•
22 Apr 07
It'[s a frightening to die with a beak tearing apart my flesh.I fear drowning even though I know to swim,but I would rather drown than be killed like that.The good thing though is that this bird is flightless, but you are right.Many human stories are more chilling than this one.

• Defiance, Ohio
22 Apr 07
I hope that bird is now extinct. If not please keep it far away from me. I have enough dangerous preditors in my area. I don't need another one....Alligators, american crocidiles, sharks, snakes and spiders....Just to name a few.

• United States
22 Apr 07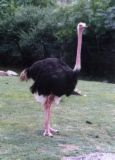 There are a few birds that could killa human. Ostrich's, emu's, eagles, and these cassowary's. Any bird that is attacking you is scary! lol. i would never want to be attacked by a big bird! I think that would be the scariest thing!