Why are Cats usually associated with witches?

United States
April 22, 2007 3:09pm CST
Its usually a given that witches have their "familiars"..but why in particular were cats most likely associated with witches?? And of course usually black cats...My name sake Pyewacket, and the name of my current black cat, which was used in the old movie Bell, Book and Candle (and in the movie was actually a Siamese)--is really an old name dating back to medieval England http://en.wikipedia.org/wiki/Pyewacket So why cats as familiars?? Although in some mythologies, owls are considered flying cats...mmm...like owls too...LOL
8 responses

• United States
23 Apr 07
I think witches are more associated with cats (or vise versa) because of the medieval times when there was the plaque spreading through Europe. The rats were supposedly responsible for the spreading and where there are a lot of rats there tend to be cats. But it seems that because witches tend to be animal lovers and usually had cats and things they seemed to not be as effected by the plaque. Therefore that increased the fear in witches and at cats up to be evil as well. Black cats though I'm not sure. I'm not entirely sure that was correct but I think I remember hearing about it or reading about it somewhere.

• United States
23 Apr 07
I also remember reading though, since there was such an association of cats with witches that people killed cats by the ton so to say..and that's why the plague actually spread..without the cats to kill them..the plagued infected rats grew in population..spreading the plague all the more...

• United States
26 Apr 07
I had forgot about that part!! Weird how things can come back and bit you on the a** huh!

•
16 May 07
That is a very interesting question, and one which I don't have a definitive answer to. I would imagine,as one poster said earlier, that it may be because many women are "cat" people, and it was single women who were generally associated with witchcraft in the "old" days. Also because cats (especially black ones) are almost impossible to see at night, because they move so stealthily and quietly, and literally blend into the shadows, this may have given rise to the concept of witches being able to change shape and appear/disappear . Also, cats are incredible intelligent and mysterious creatures – no one really knows what they are thinking – they don't slavishly worship man like a dog may do, so that made have made people feel a little threatened by them. I always find it quite strange that black cats are so feared and considered bad luck in many parts of the world, as here in the Uk they are the ultimate good luck symbol!!!!

• United States
15 Aug 09
I sure wish you were still here..LOL. Talk about being behind in responding!


• United States
22 Apr 07
"....They are aloof & independent--men just hate that & guess who was in charge then..." Uh???? Not a clue..LOL One interesting thing though...its usually women who have cats...not to say that men don't and back in the ole days most people always connected women with witchcraft...right...but like you said back then men were in charge

• United States
23 Apr 07
Now that's a good question and I have no authoritive answer just speculation. Maybe they used a cat because they are small and for the most part unnoticable so they could go most anywhere without being remarked upon. This is of course just an idle thought on the matter.

• Canada
22 Apr 07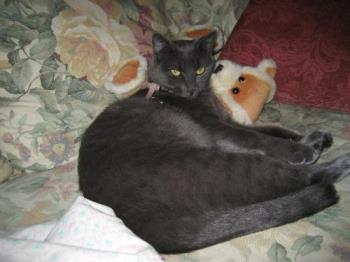 That is a good question and why does the cat have to be black?I guess the same reason a witches cape is not yellow. It would just not me a sinister...

• United States
12 May 07
Because the cats want it that way. It's not possible to keep a cat out of a circle if that cat wants in. I believe our familiars choose us and not the other way around. In our household there are dog familiars, too. Outside our rural home we have certain owls and hawks and even one particular tortoise that can be depended on to show up.

• United States
12 May 07
I've heard it said that if a cat crosses into a cast circle it won't disturb the "energy" there as cats are the most psychic of creatures

• Philippines
4 Sep 09
Have you look inside a cat's eye? You will find the answer there.

•
15 Aug 09
I've just come across this. I don't think that there is a simple reason, but according to my Element Encyclopedia of Witchcraft, ignoring the earlier association of cats with Bastet, cats were associated with Freya who apparently had a chariot drawn by two huge grey cats called Bee Gold (honey) and Tree Gold (amber). According to the encyclopedia, Freya was identified as a witch in norse mythology. It has other interesting information such as: her sacred day was Friday and her sacred number was 13. Friday the 13th is thus especialy sacred to her. Cats were sacred to Freya and the encyclopedia claims that after the intoduction of Christianity Freya was demonised and cats being associated with Freya also shared in that. This is probably the clearest reason for the association of cats and witches. It also says that in 1484 Pope Innocent VIII issued a decree which denounced cats and their owners. He commanded that when a witch was burned, her cats were to be burned with her, and also that all European cat worshippers be burned as witches and authorised the killing of cats even without an accompanying witch. According to the Encycopedia, there are stories associating cats and witches from all over the world. In Japan for example, cats transform themselves into women who are identified as witches. They were also identified with Satan who was believed to favour the shape of a cat who was always a large black tomcat.