child remains found in croc!!!! who is to blame??

India
April 23, 2007 4:30am CST
Well...a 9 year old child's been missin and doubting on the crocodiles, a croc was shot dead somewhere in South China..and the child's remains were found with it.. It is found that the guard who was supposed to be on duty was missing when a group of students broke in..before when the incident took place....Also, witnesses say dat the students were harassin the crocs by shootin them with catapults and throwin sticks... So..who is to blame??..
2 responses

• Defiance, Ohio
24 Apr 07
So did the child die from the crocs? Or from the mischevious students? Whatever happen I think it is just horrible. No animal..not even crocs deserve to be harassed. The students were lucky the crocs didn't get them first.

• India
24 Apr 07
well...the child was killed by the croc obviously...he came in with a bunch of other students when there was no guard!!...ya..its a horrid thing to happen!!:(

• Philippines
7 Jan 08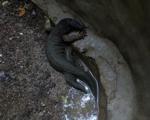 With the sharp teeth and big mouth of the crocodile and hunger as it has a big belly, we have to beware. We should not go near them and children should be instructed not to tease nor harass them. There should be no one to blame for that is an accident but the guard of course should be dealth with accordingly.