We are going to attempt to build a raft and need suggestions?

Ireland
April 23, 2007 6:28am CST
Over the weekend my son wanted to build a boat that he could float in our neighbourhood stream. His dad got involved, out came the Skill Saw, electric drills, and many, many boxes of tools. It took the better part of Saturday to erect what was dubbed, The Oblivion and it came out looking a bit like a small shelving unit converted into a pirate ship. As far as I could tell, it wasn't going to float. It was too heavy, it was too narrow, and it had nothing but a rudder like attachment which wasn't going to help it steer or stay vertical. It turned out my assessment was spot on and it sank like a lead balloon. Today, my husband is back at work and the kids have the day off school and we are going to take a wack at building something that actually floats. It is going to be Design Number One, and probably only the first of many models, so please share your experiences and suggestions! I am going to try to make something suitable for lego sized men using bamboo and lashed together by fishing line. I have no idea what to do about a sail or if it will be heavy enough. I am thinking along the lines of Robinson Crusoe, not the Black Pearle. I would love to hear of any boats or ships you built and which were successful? Even disaster stories would be welcome, as I am sure we will make our shre of blunders!
2 responses

• France
23 Apr 07
This sounds like a great project! How about using two empt pop bottles with the lids screwed back on as floatation for a catamaran? That should be easy to attach a raft to and you'll get something big enough for toys. Actually, I did red about a small floating island made of empty bottles in nets on which somebody has built a house and garden, so you ould apply the theory further and try something bigger perhaps.

• Ireland
23 Apr 07
I am hoping to do a whole fleet! The plastic botle idea sounds like a winner! So far we ended up with a 1 inch x 15 inch (roughly) plastic pipe I filled with styrofoam and then we capped and sealed the ends. We then lashed on bamboo from the garden with wire and fishing line. The weather is awful so we had to try it in the bathtub, but so far so good. If it perks up we will take it out and try it later today!

• Ireland
24 Apr 07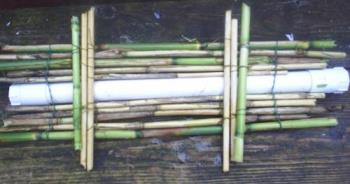 And here is the little raft I built. It isn't as nice or a proper boat like the one they built on Saturday, but ours floats!

• United States
24 Apr 07
I've never tried to build anything that floats, but I saw an exhibit in a museum that showed how some American Indians built canoes. First, they would build a fire to burn down a suitable tree. Then they would use another fire to get it to the size they wanted. They would burn out a hollow section where they could sit. I always thought that was pretty neat.

• Ireland
24 Apr 07
Oh gosh, I can just see my son getting that idea into his head. I will find him out there with a chainsaw and a can of petrol!