Why is it...?

United States
April 23, 2007 12:51pm CST
When gardeners have dandelions in our gardens or lawns we cuss and groan. Those blasted yellow flowers are like a sword in our sides, but when a child brings us a bouquet of those pesky little flowers, they are suddenly the most beautiful things in the world? How many dandelion bouquets can one mom have? LOL!
5 responses


• United States
23 Apr 07
So sweet! You know, they do add a little sunshine in the house. I guess they (dandelions) can't be all that bad! LOL!!

• United States
23 Apr 07
LOL There's a great song about dandelions by Five Iron Frenzy. It talks about how the love of a parent makes common weeds into a beautiful bouquet. You can read the full lyrics here: http://www.christianrocklyrics.com/fiveironfrenzy/dandelions.php

• United States
23 Apr 07
What a great song! Thank you so much for sharing it with me (us!)

• United States
23 Apr 07
A mom can never have too many. My children were upset this weekend when their dad was outside killing those pretty yellow flowers. I tried to explain to the children that they are really weeds but to them they are pretty flowers that shouldn't be killed.

• United States
23 Apr 07
Shame on that Daddy!!! LOL! We don't have too many in our yard, the kids always pick (with permission, of course) from the neighbor's yards. My youngest absolutely LOVES when we walk up to the post office because they have a whole field of them there!!

• United States
27 Apr 07
Dandilions dont bother me one bit. I love when the kids bring them to me shouting "look mommy we found these pretty flowers for you!!" Also we have a Bearded Dragon who loves to eat them!!!!

• United States
27 Apr 07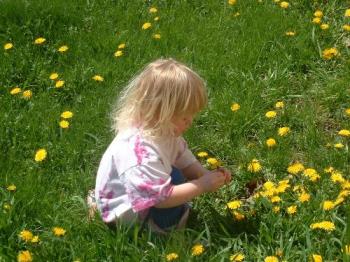 how cute is that!:) On the farm I grew up on, it was more work than ever to get rid of the buggers. I loved the fields of yellow in the yard! LOL! My girls like to pick them for me,and now, I've convinced them to pick and give them to the neighbors. I'm sure they all love me for it! :)

• United States
24 Apr 07
I have just terrible allergies but no matter how much my eyes water those beautiful dandelions are in a little glass on the table for all to see. The worst ones my girlie picks are those purple ones they make want to cry but I give them a big sniff and say thank you anyway. I like you treasure those little things in life because someday when she is grown I will still remember my lion bouquets.

• United States
24 Apr 07
What a great mom you are, to do that even with your allergies. Your little ones will remember those moments as much as you will! :)