Global Warming

United States
October 20, 2006 5:22pm CST
11 responses

• India
21 Oct 06
It is a byeproduct of industry.

• India
24 Oct 06
try to controll pollution. Look for greener energy source like fuel cells.

• Portugal
8 Nov 06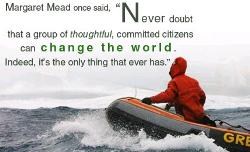 I´d just don´t get it why people don´t respond to this and other discussions about global warming. I´ve post one similar to this and only got a few comments. That´s bad, it´s a sign that to many people just don´t care about it. They are more interested in comment things like, "tell me a number...", this is a very serious issue and if everybody looks to the other way someday it will be to late. And we lost our precious planet earth. our mother earth.

• India
3 Nov 06
Global Warming are observed in recent decades only,The increased amounts of carbon dioxide (CO2) and other greenhouse gases (GHGs) are the primary causes of the human-induced component of warming.We have do adhere strict laws to stop futher depletion

• United States
3 Nov 06
A lot of studies show that to be incorrect. Global Warming started 18,000 years ago, long before such things were factors. Here is an interesting article on the subject http://www.clearlight.com/~mhieb/WVFossils/ice_ages.html. I'm not saying you are wrong, I'm not really convinced either way.

• China
2 Nov 06
human being wont regret until there is no way to go, global warming is just part of the problem, I cant see any future of the human being because they know its dangerous to us, to our offspring, but they still did it. If I live a little longer, maybe I could see the end of ourselves.

• India
1 Nov 06
Yes. i am one of those concerned citizens who always tries to walk nd cut down on driving as much as possible.. there are so many things you can do. Did u knw using perfumes and deodrants are also causing global warming. in fact they deteriorate d ozone layer!! use them as less as possible.. infact try nd not use em at all.. im sure we can all stay w/o em..

• India
27 Oct 06
global warming has now became a serious threat to human civilisation and it must be checked at once...we humans are resposible for this warming...and has souly increased due to industries all over the world...yet we have to check it now...industries are essential for globalisation and for this industries we need to cut trees...and there is also need of home for the enourmous population....but keeping all this facts in mind we have to practise afforestation...we have to extensively plant trees...public should be made aware of global warming ...and they must be urged to plant trees..illict feeling of trees should be banned...moreover not only trees...we must protect the animal kingdom too...several animals have already extinct from this world and there are many whose survival is now at risk...so we have to protect the animal kingdom...in this world every organisms are linked to each and other by some means or other...so we must protect each and every organism of this world...this we maintain the ecological balance and make our surroundings clean and the air pure...by doing this we can only prevent global warming and protect our earth from a premature extinsion...