Stuck like a Scotch-tape....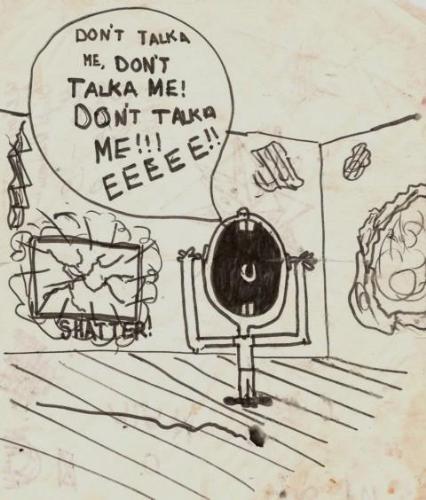 Saudi Arabia
April 24, 2007 5:16am CST
How many times did you have to deal with a person that you don't enjoy his/her company.. yet this person really likes you and would do any thing to talk/chat/Stick to your @$$... I know this girl, who I really hate to spend time with, she is even blocked on my msn.. she is a negative girl who complains all the time about everything, she can make me feel down by just talking to her for 5 FU***** minutes... I tried not to answer her calls so she called from an unknown number.. I know I might sound mean, but believe me you'll never know what I'm going through until you deal with such a person... Can you advice me what to do to avoid her????
3 responses

• United States
24 May 07
There are 2 ways to look at it. On one hand you have to ask yourself. Have you ever just needed someone one cause you were just going through a rough period and looking for someone who would just listen, understand, and don't de-value what your feeling? Have you ever felt bad, or are you always positive about everything all the time. If so, then you are lucky cause that means that life must have been always good to you. I hope it stays that way for you, honestly, and that you always have a reason to be so "positive" all the time. However, none of us are immuned to difficulties, feeling down, negitive things in life. When that happens, we seek understanding at least, from someone. Maybe it's just you don't understand why she is so down. Maybe you should challenge yourself and practice and little human empathy, you will recieve alot of good blessing and you will feel good that you offered up a friendly/empathetic ear to someone in need. When she calls the next time...instead of trying to avoid her cause she so "negative". Answer her call, listen to her, and let her know that it's ok for her to be feeling bad during rough times, and that you are there for her if she needs you. It's mostly just to have someone listen and talk to her anyway. I promise it won't hurt. If your attitude was really all that "positive" and life is going so great for you , then you shouldn't have to worry about someone else's bad luck or attitude jumping off her on to you. I don't think it happens quite that easy. Most of the time people think stuff like that can happen when the actually just don't want to deal with anyone else less fortunate when things are going so great for themselves. Being charitable is a good thing, honest. There are great bennefits. Try it and see what happens. On the other hand, the same situation happend with me, only this girl wasn't realy negative...she was just REALLY ANNOYING, clingy, and needy (her thing is she just never wanted to be alone, I guess). Maybe she had trouble meeting, or keeping friends and decided to just hold me hostage to it. When I tried to break away from her, her voodoo practicing behind put a hex on me that is still going on to this day. With people who take this "Im needy and I choose you" thing out of controll, can be possesive, stiffling, and sometimes even dangerous. Wrath be upon you if you try to distance your self once they have embedded their hoofs into you.

• United States
24 May 07
Oh yeah, one more thing. I have to say this cause I don't know how deeply this girl is into you or is it at a healthy level . If it's not at a healthy level and she gets like my voodooo priestes, Then you have to be vicious and cruel as you can be to get her off you (verbally, mentally, emotionally). Kill her spirit if you have to . But if she does voodoo and gets mad, your screw like me. lol. good luck. There's always the police and a restraining order.

• Saudi Arabia
8 Jun 07
Lol.. Thanks for the response and sorry for my late response :p Actually this girl is not negative because she is living a bad life, the opposite this girl has everything.. she just hate it all.. Whenever you ask her about something she did she complains, even when she travels she keeps complaining.. Three of our friends are now suffering because of her annoying calls.. I kept ignoring her and now she stuck to another friend who is really confused and trying to get red of her :p By the way the strange thing about this girl is that we never been friends suddenly she started calling me out of the blow, I met her at work and never really liked her or enjoyed spending time with her...

• United States
25 Jun 07
oh, well, he he he.. it seems as though she is just a lil drama mama. She has no worries, so she want to create them.

• Saudi Arabia
24 Apr 07
THE ONLY SOLUTION IS: Answer her, tell her in the face say this:(Please DO NOT CONTACT ME anymore. This is not personal but i just can't cope up with you this way or can't get in touch with you anymore). Look, people with such attitude are divided into two main groups as follows: CATAGORIES OF PEOPLE WHO BUG YOU: 1) A type who definately know u r annoyed but as long as u did not say it in the face, as long as u did not complain, they'll just keep on annoying and bugging you coz they're getting sorta benefit whether spiritual or material. 2) The other type, who bug you but they don't know they're bugging you and they are two types: a) Those who don't mean any harm and they're willing to change, in other words they don't know that you're annoyed, and once they realize they are overdoing it with u, they immediately shape up and deal with you in a way that comforts both of you. This is the reasonable type. b) Those who don't know they're annoyin you and when you tell them in the face they either fight with you or simply vanish coz they aren't willing 2 comfort you. YOUR FRIEND seems to belong 2 either type 1 or 2b so the solution: Straight in the face, be bold (not too much huh)

• Saudi Arabia
24 Apr 07
I think she is none of the types.. I tried to ignore her and let other people tell her I don't feel very comfortable with her.. I avoided meeting with her.. but she keeps calling and chatting I even blocked her and sent her an email with a site that shows if you are blocked, you know what she said??? she said oh why am I blocked on your list... I just can't stand her :'(

• Saudi Arabia
24 Apr 07
That is why i said: say it loud, i don't want 2 chat with you. Period This is wat'll work, believe me Good luck

• Saudi Arabia
25 Apr 07
I will honestly try to avoid saying it loud.. if it didn't work then I will have to do... Thanks I need the good luck :)

•
24 Apr 07
If she is working with you, then there is no way of avoiding her. If she is that presistantly rude and keeps calling you, but you're too kind to tell her to sudd off & you don't want to change your number, I suggest you go to the mobile shop and let him install a "call control" software on your mobile device. it's commonly known as "BLACK LIST". It blocks unwanted callers, private numbers or any number & tst messages you want, forever. Did wonders with me. Easily found on the internet too. You just have to find the version that works with your phone. But I suggest the you be BLUNT and RUDE with these kind of people who won't "take a hint" and tell them how you really feel. I respect your politness though! ;)

• Saudi Arabia
24 Apr 07
She doesn't work with me.. otherwise I'll kill myself... I like the blacklist idea, I think I'll try it... Thanks for finding me polite :)