what's the COLOR OF YOUR TOOTHBRUSH?

Philippines
3 responses

• United States
24 Apr 07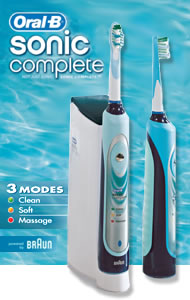 My toothbrush is blue and it is called "Oral B - Sonic Care Complete". It is an electric toothbrush--it has a base that I charge it and it doesn't have a cord. Here is their website and I will post a picture of it as well: http://www.oralb.com/SonicComplete/Have a nice day.


• Portugal
24 Apr 07
I don't have or use a toothbrush. I leave my teeth in a glass of water with just a little bit of bleach and in the morning I rinse them off with vinegar. For breath control I use a mouthwash or chew mints.