do you like to SLEEP?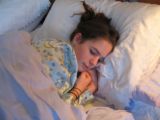 Philippines
7 responses

• Philippines
30 Apr 07
yup i love to sleep a lot coz i tend to forget all my worries and problems if ever i'm asleep...

• Philippines
26 Apr 07
yeah.. i love to sleep a lot.. but i want to sleep and miss nothing. sometimes even if i'm still sleepy i would get up, because the hours are already enough and i need to be somewhere or do something.. i love to sleep without the need to get up..


• Malinta, Ohio
25 Apr 07
I love to sleep. I just wish that I could without taking a sleeping pill. Otherwise I just lay there and think about it. With my MS I am so tired from the fatigue that I lay down alot, just not sleeping. I cannot take a sleeping pill in the middle of the afternoon.