is it mobile phone fashion or personal need?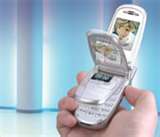 United States
April 24, 2007 6:23pm CST
now day every one seems to carry around mobile phones. even our youngers in junior and elementary school. text messages are also on high rank with higher charges. why do we carry mobile with us? do you think it's just fashion or professional use? let's not forget versace and samsung new style phones that won't go out of fashion. we also have go crzy over mulitcolors or new style every season. celluar phones are more in fashion than our personal need. teenagers and college students want new phone set every new season. since we get new style from all the companies. honestly, we all love to personalized our phones with new new screan saver, ring tones, graffi tags, and so on. cellar phones has become so importanta nd valuable in our lives that we almost drool over every new style comes in market. what your personalized mobile phones look like? mobile phones are more in fashion tendz or personal use?
3 responses

• India
22 Aug 12
Now this is fashion everyone has two to three mobile even they can use single mobile but they show off. Actual this is necessary for personal need. When we are long distance from our family members.

•
27 Apr 07
i carry a mobile phone for personal use, not really for fashion. and it's for emergency purpose as well, for quicker communication. i don't mind if i don't get the latest phone, as long as i can text, can call, and it's coloured, hehehe!! + with camera. never mind the other features. some make it their fashion statement. but if they can afford to have one then why not.

• Australia
25 Apr 07

Hello,I use mobile only for communication, i do not really care about the style of my cellphone, as long as it works properly and is habdy for m to put into the handbag, I am happy to use it. The one I am using is the model one years ago, i seldom go to the cellphone shops to check out the latest cell phones. I am using nokia 6280 ,I do not think it is a trendy one, but it is enough for me as i can take some photos or videos,also i can record short conversation by my cellphone,may be it can be a proof to prevent someone break the promise, i will record the conversations.lol.