What is the last MOVIE you saw???

United States
11 responses

• United States
25 Apr 07
I recently saw Vacancy in theaters. it was really good, and really creepy. The masks they use in that movie are CREEEEEPY! Omg! lol. It sras Kate Beckinsale and Luke Wilson; I would recommend this movie to anyone who likes getting scared. It contains a lot of suspense, terror and thrills!

• United States
25 Apr 07
OOOHHH that sounds great!! I cant wait til it comes out on DVD I will buy it, I am huge on Horror movies!!! Waiting for some new GOOD ones to come out!

• United States
25 Apr 07
Departed is actually our next DVD to watch. It's sitting on our coffee table, lol. We probably won't get to it until the weekend though. This past Sunday night we watch Van Wilder: The Rise of Taj. It was pretty funny, but not as good as the original Van Wilder. Before that we saw Borat, and actually enjoyed it. I was surprised. We never go out to the movies, we just get our DVD's from Netflix. We'd rather be comfy in our own home.

• United States
25 Apr 07
Borat is one of the next movies I am planning on buying I heard it was pretty funny!

• United States
25 Apr 07
The Departed was very good. Kind of hard to get into because it has so many characters, but once you get past that, the plot gets nice and twisty. I just finished watching The Good Shepherd. I almost quit because the beginning was so dull, but I made it through. I was kind of disappointed with it. The script wasn't that great, and I thought Matt Damon was pretty unconvincing trying to go from a college kid to the father of a grown son.

• United States
25 Apr 07
thanks for the info on The Good Shepherd i wanted to get the movie but now i will probably reconsider, I didnt hear alot about the movie i just thought it would be pretty good because it has Angelina Jolie in it


• Vietnam
26 Apr 07
I think it's 300 . The quality is not so good, because it's a Dxvid that I download from Bit Torrent (Torrent is still legal in my country), but the film is just great! Every scene is a beautiful spectacular, and the actions are good.

• India
26 Apr 07
The last movie that i had seen is BigB. Ever heard of it? Maybe not because it's a Malayalam film, but by far the best i have seen in Malayalam.

• United States
25 Apr 07
The last movie I saw was Teenage Mutant Ninja Turtles with my hubby and son - I mostly only get to see childrens movies but when I get the chance to get away then I try to see the movies I want to see - the last one was Pursuit of Happiness.

• India
25 Apr 07
Lastly i saw 300. It was a good movie in terms of techincal and special effects. Also the dialouges were pretty good. Everyone must watch that movie atleast once in a hall

• Philippines
25 Apr 07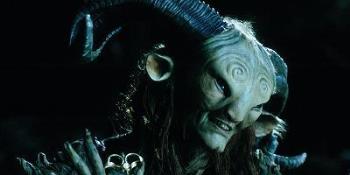 I saw Pan's Labyrinth. It a dark fantasy film. Although the main protagonist in the movie is a child, I think it should not be watched by a child. The movie has various violent scenes and the faun is too scary for a child's movie. There was also this scary character that reminds of the movie Silent Hill.

• United States
25 Apr 07
The last movie I saw was To Sir With Love. It was on cable. I saw the Departed . I loved it. It is one of my favorite films.

• Philippines
25 Apr 07
i cant remember the last movie i saw. lol. i thinks its a year ago.