What do you drink in winter?

Australia
April 25, 2007 3:31am CST
It is getting cold now, rainy every day. And my favorite drink is hot cappucino.But in the night i like a cup of hot sweet tea. Sometime i've made it by my self. - 1 cup of hot milk - 3 spoon chocolate powder - 3 spoon coffee cappuccino - 1 spoon of sugar I drink it with bread sometimes, can make my body warm. What is your favorite drink when the weather is cold?
10 responses

• Singapore
25 Apr 07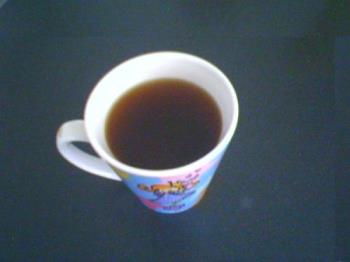 I like to have my hot freshly brew tea with a bit of sugar in the morning regardless whether it is a cold or hot day, usually one sugar to keep my weight down and add skimmed milk into it. I would prefer full cream milk, but due to my weight, I have to cut down on the full cream milk and opt for skimmed milk.

• Indonesia
25 Apr 07
a cup of hot chocolate ,or cofee sometimes i drink a hot tea ,but when i have much money i but a bottle of vodka ir mansion ,not to get "high" or drunk but just wanna feel hot and not freeze :) .


• India
25 Apr 07
it does not matter for for me wether winter or summers, same for me, in both the times i drink cold water only even at-17 degree i prefer to take cold water only, and some times cold drinks also, strange, or shoking for you, i feel like vomiting while drinking water

• Australia
25 Apr 07
wow, i can be freezing if i do that. thank you for sharing his with me cold man (just kidding)


• Australia
25 Apr 07
Nutmeg powder can make feel sleepy but coffee is make you wake up. Weird combination. Thank you


• India
25 Apr 07
I prefer milk or green tea during the day when it gets cold. In the night, I prefer tomato or potato or onion soup with toasted bread, it really makes me feel very warm! I avoid tea/ coffee since they can get addictive, and because they have caffine.

• Australia
25 Apr 07
Thank you for your reply. You right tea and coffee is not good for health, to much caffein


• Philippines
22 Jan 08
well, i come from a country without any winter. We only have rainy and sunny days...Philippines. When it's cold i usually have a cup of coffee. It makes me feel warm before going to bed. I know, some take coffee for them not to go fall asleep. But, for me, it's the best. Have a blessed day.