Adolf and Saddam!Which is worse as a president/person?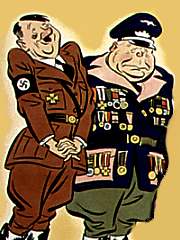 United States
April 25, 2007 10:39am CST
I think that out of these two men Adolf was the worst.I would have to say this is because of his "final solution" and the near extermination of an entire people.Saddam was aslo pretty bad and killing his own people to get farther in power, with this said what do you think of this.
2 responses

• Philippines
25 Apr 07
Before anything else, I must first note that they're both very horrible individuals and their existence is something that the world would dislike forever. Of them two, I think Hitler was worse. There seems to be no wide manslaughter which compares to the Holocaust - he used almost every effort to make an entire race suffer while they see all their loved ones die the ugliest way possible. Saddam was also a great bad guy but I suppose the involvement of more races prevented him from causing more trouble and dilemmas.

• Canada
26 Apr 07
I think they were both rotten monsters who killed millions of people and when you get into that amount one is not better than another. But in terms of prisons, camps, starvation, torture, adolf did it on a larger scale.