male dog killing the grass

United States
April 25, 2007 10:57am CST
I have had many male dogs and not all male dogs(their urine),has killed the grass.Is there something else I could do, other than reseeding the grass,to bring the grass back? Like is there a fertilizer that I could use to neutralize the effects from the urine?
3 responses

• United States
25 Apr 07
Add a couple drops of apple cider vinegar to your dogs food and water. It will neutralize his urine.

• United States
25 Apr 07
Its absolutely fine for cats as well. I usually add a couple of drops to their water bowl because I have dogs with white faces and it also helps to keep their beards from staining. If you use the vinegar, you probably won't need to use fertilizer. I'm always reluctant to put chemicals on my lawn because it could harm the animals if ingested. There are also tabs you can give to your dogs called GreenUm, but it does the same as the vinegar. . neutralizes the urine. Vinegar is cheaper anyway. .a small bottle of it will last you a couple years.

• India
25 Apr 07
well the easiest and the most inexpensive solution would be to pour a couple of liters of water there...it would dilute the effect of urine and that should avoid any serious damage to grass or any other plants for that matter.

• United States
25 Apr 07
The damagae has been done.It is a big strip along the edge of the property and then a spot about 3 feet by 5 feet.I would have to do ALOT of watering with a hose and with the water/sewer rates for this town,I would really be in the poor house.(my bill already is $230 for 3 months for 2 people,even though the water is going on the ground,I would still be charged sewer rates.Stupid city.)

• United States
25 Apr 07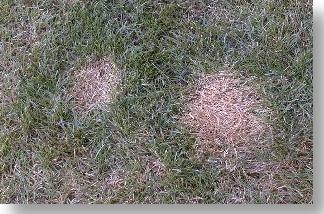 I'm not too sure. I never noticed this until I got my black mouth cur a month ago. We live in an apt complex and there is an area for dogs. And you can see where his urine is killing the grass in his spot. I heard they are called burn spots.