What would you do if your best friend's girlfriend is cheating on him?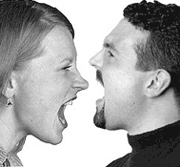 Romania
April 25, 2007 11:48am CST
They are together for 1 year and my best friend really loves her, they share a special relationship or at least that's what I saw until now . If I will tell him I'll ruin his day and make him really upset, but if i don't he will find out sooner or later and maybe it will be to late . I find out that she is dating with another boy ...because i know him too but not so well . What should I do?
1 response

• Poland
25 Apr 07
I will try to talk about me...and if you are smart you will extract my advice. To me is no way in hell to stay in a relation where my boyfriend cheated...not for me...The only solution will be to say "adio" and to take off from my life.... cheating is cheating is not many tips... ...as bout your situation...if is not your girlfriend,maybe is good to let him to find out alone,in those situation if they pass after this they can hate you later...but...how you wish...