are you a Starbuckers??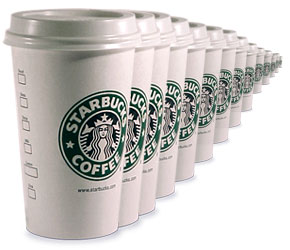 Indonesia
April 25, 2007 12:25pm CST
i do, but i don't drink it all the time here in my country, Starbucks is quite expensive people drink it as a lifestyle how's in other countries? do people have it as a lifestyle too?? my favourite is the caramel frappucino, what yours??
3 responses

• United States
25 Apr 07
i LOVE the caramel frappacinos too! i dont drink them all the time, but i usually have one a week or so. some weeks i'll crave it more and have up to 3 but not usually more. i dont think i could ever dish out $3 a day for a drink.

• United States
25 Apr 07
I have never been to starbucks, but they are building one in our town and when it gets here, I will definitely try it.

• Indonesia
29 Apr 07
I am also from Indonesia and I live and work in a very small town where starbucks doesnt exists. But I travel very often, and whenever I'm in a bigger town, I do stop by at starbucks. I like it there because the place is cozy and it helps me relax when I feel tired because of my journey. My fav is also

• Indonesia
29 Apr 07
oops..typos..my fav is also caramel frapuccino :)