My Little Monkey is sick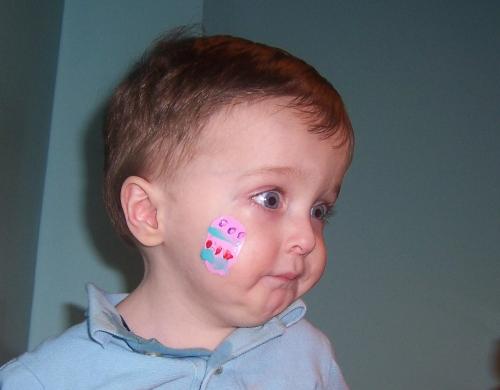 United States
April 25, 2007 12:45pm CST
It started at 3am this morning. I heard him coughing then he started crying. We waited thinking that he just got woken up from the coughing. Nope. Hubby went up there and he had gotten sick from both ends. So he bathed him and put clean jammies on him and brought him down stairs. He proceeded to get sick for four hours more. I gave him a teaspoon full of pedialite every 15 mintues but he would get sick on that. Then I tried ice chips ever 15 minutes. Same thing. I tried to give him Tylenol but he got sick on that too. He has a fever of 101 and is miserable. He's not having any wet diapers anymore. He's still drooling and has tears but I'm worried about him. Doc says he'll be fine as long as we keep doing what we are doing. But I feel so bad for him. His fever won't go down with out tylenol but he keeps getting sick so it does him no good. Is there anything else i can try to alleviate his stomach? He's only two.
7 responses

• Canada
25 Apr 07
If you don't want to upset his stomach, maybe you can ask the doctor if you can use a fever medicine that can be inserted from the butt. It is quite strong so it may help calm your baby too. I hope your baby gets well soon.

• Canada
26 Apr 07
So sorry...That is awful. I know there is something going around...I am sick myself. I think that you just need to keep him comfortable and give him plenty of liquids to keep him from dehydrating. You may want to try a liquid form of tylenol...it may absorb better? You need to keep that fever down...that is the worriesome part. I hope he feels better....

• Davao, Philippines
26 Apr 07
That was high already! i mean the temperature , try admitting him in the hospital and do some lab tests, so that we will know whats is going on , hes only two and very fragile at that, im too is worried.

• Canada
26 Apr 07
Awww, I'm sorry to hear your baby is sick. It's awful when they get sick. All I can suggest is to keep doing what you're doing right now, it will run it's course and he should be fine in a day or so. For his fever though, maybe place a cool damp washcloth on his forehead to try and bring his temperature down a little bit. I do that with my kids and it usually works. Keep giving him the Tylenol though, because his body needs that to help fight the virus/infection/bug that he has.

• Canada
25 Apr 07
if he's still getting sick, try giving him bread, i know it's not something that's widely used, but bread soaks up whatever's in his tummy making him ill and settles the tummy, just give him little pieces every once in a while, it should take it right away, at least the throwing up portion, that way he can get the Tylenol down.

• United States
25 Apr 07
Awww...poor little monkey!!!! I've been there and you just want to be able to curl them up and hold them! :( You are doing right by trying small portions of liquid. They make Pedialite popsicles...the coolness helps soothe the belly at the same time. The fever makes the belly even more upset and vomiting helps. So, you may want to try very small bites of those Pedia Popsicles...it worked for my son when he got like that. :) And it was what the hospital told me to do when I had to take him in before for dehydration. If you think he is acting way too dehydrated, take him to hospital and they can give him fluids to help. Because dehydration can also cause worse vomiting and other end stuff.

• United States
25 Apr 07
All you can do is let it run its course. Keep watching him dehydration. Keep giving him the pedialite. Hopefully it is one of those fast moving bugs. A luke warm bath might bring down his temp for you. Hopefully the rest of you wont catch it too.