do you DRINK COFFEE?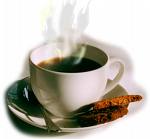 Philippines
April 25, 2007 9:43pm CST
Why do you drink coffee? What are its advantages to you?
4 responses

• United States
27 Apr 07
Yes i drink coffee for more than one reason, I like the eye opening effect it has on me in the morning, it also has a soothing effect on me after dinner. Me and my lady have a cup after dinner most nights kind of a final lift of the day, as you come down from the lift it makes it easier to fall asleep.

• Indonesia
26 Apr 07
I drink coffee every morning to start my day, if i didn't have my coffe in the morning i always feel that i didn't start my day well

• Vietnam
26 Apr 07
The advantages? No, I drink coffee just because I like it. I like coffee when it hot, without sugar or milk~