My parakeets don't fear the kitty. this is wierd!

United States
April 26, 2007 2:27am CST
My kitten now roosts on top of the birdcage. He has an expensive catbed we purchased, yet refuses to use it, instead, he slleps on top of the birdcage (to my horror)yet, they don't squalk, or throw a fit or anything. have I entered the twilight zone?
4 responses

• United States
26 Apr 07
I have a Blue Front Amazon and a Kitten and the kitten does the same thing Lays up on top of the Birds Cage with the Parrot and they get along great but the parrot is the one who says leave me alone the cat listens..lol But other than that they get along great the parrot is 10 years old and has seen his share of cats but gets along with this one great.

• United States
26 Apr 07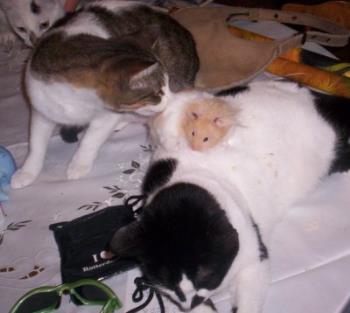 I don't find that strange. I've had hamsters who crawl over the cats and sleep on them. Our rabbit plays with the cats and could care less that he normally would be considered prey by them. Our cats will lay on top of the rabbit cage and he'll reach up and poke them in the belly. I think pets realize after a while they don't have to worry.

• United States
31 Aug 09
It's odd but this isn't unheard of. All birds have different personality just like humans. Some are afraid of everything and others think that they own the world and nothing can hurt them. My cousin had a parakeet and a cat. The parakeet loved chasing the cat around trying to clean it... the cat just ran. He later got another parakeet and it did the same thing to the cat. I think it also depends on the cat's personality too. I've also heard that if you have the bird first the cat will know it's place and not attack the bird... of course that isn't always true.

• United States
21 Aug 08
our parakeets dont show any fear to our cat either. she sleeps near them and watches them but thats about it. when we first got her though she jumped on there cage and knocked them down. but after that the cat just watches them when they sing