To all cat lovers

April 26, 2007 2:52am CST
A friend sent this to me by email so I thought that I'd share it with all the cat people here on Mylot. WOTD: Ailurophile (Noun) Pronunciation: [I-'lu-rê-fIl] Definition: A cat fancier; a lover of cats. Usage: It is amazing that in a land of so many ailurophiles, the word is used so rarely. Cat-lover may be a more straightforward term but it is also ambiguous and potentially misleading. Play it safe and use this: ailurophile. Don't like cats? Well, we have something for you, too—you are an "ailurophobe," someone who hates or fears cats. The adjective is ailurophilic, unless you mean "cat-like," that's ailuroid. Suggested Usage: An advantage of a rarely used word is that metaphorical usage has yet to be explored. You might try, "She's a bit to the catty side and I'm not an ailurophile." Of course, people are not the only creatures who might love kitties, "Now, in just what sense is your dog an ailurophile?" Etymology: The first printed evidence of today's word appeared in 1927. The word is clearly a concoction of Greek ailur-os "house cat" + phili-os "friendly, fond of." Not much is known of the origin of ailuros. The compounding element phil- "love" was used widely by the Greeks, providing us a gold mine to 'borrow' from. We have accumulated such gems as bibliophile "book-lover," Francophile "Lover of things French," and, of course, dendrophile, the polite form for "tree-hugger" among many others. —Dr. Language, yourDictionary.com
6 responses

• China
26 Apr 07
my cat is run into my family once time from other people's home.At first,she's very dirty and emaciatied,we gave her food and water,play with she,than we are become frience,her name "mimi",my family treat her as one of family member.I hope everyone love cat as all of us.

• Melbourne, Australia
26 Apr 07
I miss my cat. He ran away after we got another dog. HE was friends with our dog & then not the new one. So he ran away. The pound got him & contacted us, but because of our new dog we said for them to let him get adopted...he got a wonderful new home & I still miss Freedom very much.

•
26 Apr 07
I'm sorry that happened, but at least he got into a new home.

• Philippines
27 Apr 07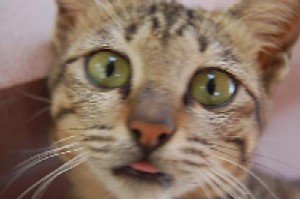 Very good information. I have cats and I like cats and they are my friends and therefore I could be an ailurophilic person. I am an ailurophile. I learned something. Thanks a lot.