My FIRST website!!!!!!!!!!!

Bahrain
April 26, 2007 3:28am CST
okay, so I finally did it too, made my own website, now it's a still a work in progress, and I still have to add lots more to it. But I really wanted to know your opinions, so could you please check it out and let me know what you think? Oh, and while you're there, also maybe, sign my guestbook..... Now, I don't know whether it's allowed to put my link in here, or not, but that's just for referral links right, plus I'm not making any money out of my website, so what do you think? I think I'll tell the first person who wants to make a visit and put the link in there, or you could go to my profile and check it out. And do let me know what you think about it, because it's the first time I made my own website, and be honest, I can take it...
7 responses

• Singapore
26 Apr 07
Any link that is relevant is fine..

• Singapore
26 Apr 07
Did I make a typo? I find the *purple* electric thing cool. I like it! I do understand the limitations of a free websites...:( And yes, it's good stuff for a first time. In my haste, I forgot to commend you for your maiden effort. Am bad. Forgive me. You wouldn't believe how freaked out I was when I made my first website (paid host). I spent so much time and asked so many people and nobody can tell me why I can't see my website on the web. I turned out that I have to name the file index.htm/html in order to view something on the frontpage. It is such a stupid mistake but believe you not, it didn't feel obvious to me back then.

• Bahrain
26 Apr 07
ah well, I know, that's why I was so anxious to hear everyone's opinion and I do like praise, but I appreciate a little bit of criticism if it is meant for good reasons and in this case, it is, because I think this will help me make my site better. In fact I've started working on it already. So I think now everyone who reads this discussion and checks it out will see a different version of it. I'm trying out different stuff, when I'm finished I'll let you know. And then, you better check it out again, he he. Oh, by the way, did you sign my guestbook?


•
26 Apr 07
I'm not going to copy what everyone else has said, but it's good to see you having a go at a website, I hope you are enjoying your experience!

•
26 Apr 07
I hope it works well for you, would you mind if I linked me freewebs site to yours? I have a website that helps me promote my hobby, The Turds! If you don't want me to link you then I'll understand.


• India
26 Apr 07
hey what can say --a very big "CONGRATS".That was very sweet of you to have come up with something like that.I regretted so much for not making my response first to this discussion cuz i wanted to be the first to wish you.Sorry fr the delay anyways. I like the layout with maple leaves,its pretty cool.You could do something about the banner,you know the title.you could probably make an banner image and and put it there,that'll be fitting. All the other stuff were fine,very good for your first one.Good luck and congrats again.


• India
27 Apr 07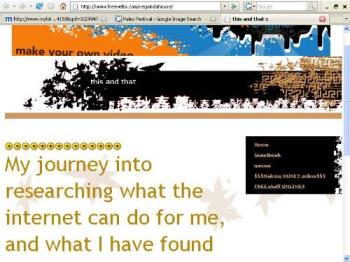 sure why not.I'll do it right away.

• India
27 Apr 07
hey the add banner is totally fine.Its not that bad.What i was trying to say is that you should put a banner for your site.For eg:the banner which says vega in the house or this and that,you understand what i'm saying?Every website has its banner,so i hope you understood.



• Taiwan
26 Apr 07
Congrat! I've always wanted to make a website, too. But never got around to it or know how. I'm not really good with computers. I always envy those who are good with computers. I'll go check it out.

• Bahrain
26 Apr 07
Well you don't have to be a computer wiz for this one, I'm not, it's really easy, in fact if you go to my site, on the top left, it says "get your own free website", so why don't you give it a try. Nothing can go wrong, trust me, the tools available make it really easy.

• United States
26 Apr 07
been there and seen it. you are off to a great start my friend, websites can be a lot of fun I just keep adding stuff to mine all the time now. go check out mine I got about 7 online stores now so come shop with me at HOGHONEYS WORLD. keep up the great job.

• Pakistan
26 Apr 07
Hey vega, Just checked your site out, and i feel its really really great to start off with. I mean, the header, the tagline, the logo, and all the things that you are and will add. Seems like a really great idea. A bit more into this field and you could actually start off with creating more advanced sites based on scripts and user and member environment. Good luck! :)

• Bahrain
26 Apr 07
Thanks so much, I'm glad you liked it, actually I haven't any experience in this so I wasn't sure what it would turn out as, but it seemed pretty easy, I mean all the tools were available, and the site was actually really user-friendly. Thanks for checking it out, and who knows I might just take your advice and create more advanced stuff in future too.