How many times you DATE your partner in a WEEK?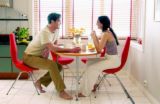 Malaysia
April 26, 2007 4:37am CST
When i still studying at university, i will go out for date with my partner about once per week :) not so heavy right. Believe it or not, now it's difficult for me to date her even once in a month. So my friend, how about you? Do you going for date regularly?
6 responses

• United States
29 Apr 07
Well, now I am married, so I see him every day! :) But when we were dating - he lived far away from me so I saw him only once or twice a month. It is hard because you want to see the person more often but distance makes it impossible. We used to talk on the phone every night. I remember when I was in graduate school and my parents came to visit me. I was seeing my boyfriend in secret - my parents did not know. I wasn't ready to tell them about him. He would call every night at 10 p.m. and I would excuse myself from the living room and go to my bedroom to pick up the phone very quickly when he would ring. One night I heard my mother and father talking. My father said, "What time is it, I don't have on my glasses." My mother said, "It is almost ten p.m." My father said, "No, it is earlier than that." My mother said, "No, it is almost ten p.m. - you listen - in another minute the phone will ring." My father said, "What are you talking about?" My mother said, "Don't you notice the phone rings every night at ten p.m. It is 'him' calling." My father said, "Who? Who is 'him' calling?" My mother said, "You know - the boyfriend that she is keeping secret." My father was surprised at my mother's words! I was also surprised that she figured it out - so when 'he' called - I told him, "My mother knows about you..." I just remember that funny story about when we were dating! :)

• Malaysia
29 Apr 07
It's so sweat booboo, your experience. Your parents is very sporting and open minded about the relationship. Well booboo, can you share with me about your first date? Then, what the respond from your parents when noticing that their cute daughter have foreigner guys :)

• United States
29 Apr 07
My husband and I met in a bookstore. We were both looking at the same book - "Do Fish Sleep" - a book of facts and information. We had coffee and we talked. It was nothing more - but then he started to write me letters and I wrote him letters back. Then he started to call me and leave me messages on my answering machine. Finally he asked me out on a date and we went to a movie. Then the next morning, I remember he came over unexpectedly and he asked me out for breakfast. We went to the beach to a small cafe and had breakfast and read the Sunday paper together. I was always afraid to tell my father - he is too strict and he has four daughters - and no man is good enough for his daughters. So I kept it secret for a time. The first to meet him was my mother. She liked him right away. He brought her candy and flowers and he took my mother and I out to dinner at a very nice restaurant. When he finally met my father - my mother had already said so many nice things about him that my father was nice to him. Again, he took my parents out for a very nice dinner at a very exclusive restaurant. My father said to me, "You keep this one - he is a good man." My father has said that many times since - that his son-in-law is a good man and makes him very proud. :)

• Malaysia
29 Apr 07
Booboo, you're so lucky for that. It seems your husband take step by step to winning your father heart. I wish i could do just like your husband (you know my problem righ booboo) But in my situation, my partner mother who think nobody good enough for her daughter, since i live too far and different state. Another question again booboo if you don't mind, do you have a plan when you know your father may not accepting your husband at first. I mean planning on how to make sure your father accept your relationship? Do you ask for help with someone?


• Philippines
30 Apr 07

when i dont have a job me and my partner go on a date 3 times a month..but now that i have 2 jobs we only go on a date once a month...but i make it that she was going to be happy for that one whole day!!!

• Malaysia
30 Apr 07

At least you still have a time for that, and you have to make sure that she deserve what she should. Same goes for me, it's hard for us for having date right now because both of us work at different state even at the same field. But when we've got opportunity for doing so, we will make sure that no one regret the date :)

• Sweden
26 Apr 07
Well, me and my bf lives together so we see eachother each day, however we also try to go out atleast once a week, so that we keep the fun in the relationship as well. If u are concebtrating on your studies, I am sure that she understands that ur time is limited, and she is happy that u atleast date her once a week =)

• Malaysia
26 Apr 07
well wish me good luck them marie :) it's kinda shock for me actually, anyway differents situation and environment will lead us into different solution...thanks for responding

• India
26 Apr 07
well............ there was a time when i used to have her throughout the day........mostly during vacations...................but now no more such beautiful situations...................................................as my practical and oral exams are bout to start and recently i got done with my college submissions.................................................................so hardly having any time to meet them.........................i really miss it..................................but i'm looking forward today to have a coffee out with her............

• Malaysia
26 Apr 07
Well thanks for the respond my friend. Why you use too many dot up there my friend, it's not the way to make our post more than 4 line :) i think you know the rules here in myLot, so be carefull next time my friend, because mylot will delete the post, and not just that, it will deduct our cents :) happy lotting then

• India
28 Apr 07
well thnx 4 that info. but usually those dots r there 4 the time i take to think.while i think bout the next line,i just keep that dot key pressed in the mean time. well ...so nice of you. and,yeah happy lotting to you too.

• Malaysia
29 Apr 07
Well it's nothing pal :) see you around..Nice to see your post

• Philippines
29 Apr 07
just once in a week. we really can't go out so much since she is 3mos pregnant. before she was pregnant we go out almost everyday. I miss those days.

• Malaysia
29 Apr 07
Almost everyday axoloti, wow it's great :) i wish you had wonderful time with your partner...ha one more thing, welcome to myLot, keep posting then :)

• India
26 Apr 07
well it's not fixed as when we don't have the time then we can't go out 4 a date but still i try on weekends 2 hang around with my partner....

• Malaysia
26 Apr 07
yeah thanks buddy :) happy lotting day