At what age should today's children have access to computers

United States
April 26, 2007 8:29am CST
My son is 4, and I have given him my old computer. He goes to a couple sites that I programmed in favorites and plays games. He's been doing this for over a year already. It seems strange to me considering when I was his age, computers were just starting to become slightly mainstream, most households didn't own one. Should our kids be allowed access to them at young ages, since they are becoming such a big part of society, or should we be trying to hold off, and teach them things the old fashioned way most of us learned?
5 responses

• United States
26 Apr 07
I think its wonderful your son has access to the computer.YOU can always monitor him.My kids are ages 12,11 and 10 have access to the computer in my home.In school they have acess to.

• United States
26 Apr 07
I think it is great to encourage children to play games and such online. I think I would leave the computer in an open area and such once they grow up and can really start to explore.

• United Kingdom
27 Apr 07
At the school I worked at the reception children aged 4 were allowed on the two computers in the classroom but they DIDN'T have access to the internet, and they would use art programmes and programmes which helped them to count using teddy bears to hide and find. However children at aged 5 and 6 in the first year were allowed access to the internet but there was a special filter where all 'non appropriate' sites were banned. Our school also had a computer suite and most schools have them nowadays and children, yes, start very young! Looking back when I was a child we didn't have the luxury of computers. It is good to help them with their research providing they are MONITORED!

• Philippines
26 Apr 07
My 14 year old and 11year old kids have been using the computer for sometime now. They take turns to use it everyday. I noticed that whenever they are on the computer, my 3 year old baby pulls a chair and sits next to them and watches them while they use the computer. So we decided that she has her turn to use the computer too. Now, she takes her turn to use the computer everyday. She knows how to use the mouse and chooses the games she wants to play. I assigned my 11year old son to sit by her and guide her. It's amazing how she has learned to play the games so quickly, and how she now demands for her turn to use the computer! I think it is alright to allow the kids to use the computer, so long as we are around to keep an eye on the sites that they visit on the internet.

• United States
26 Apr 07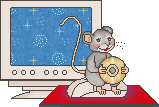 I gave my children a computer years ago. My daughter was about three when they got the first computer. She use to just play educational games that we bought for the computer. Now my children go to learning sites that has been recommended by their school. It is really helpful for the kids to have computer experience before tey go to school because even in kindergarten they are using computers to learn. These are a couple of sites that my children visit. http://www.starfall.com/ http://www.coolmath.com/home.htm http://www.literacycenter.net/lessonview_en.htm