LOL! Got paid from ADBUX!!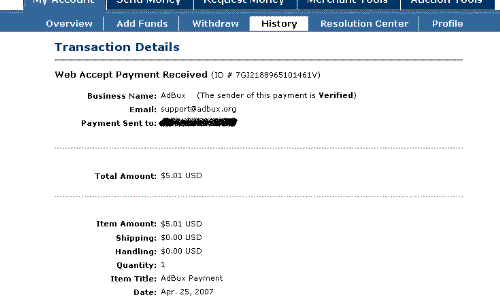 China
April 26, 2007 9:23am CST
Several days ago, I joined a program called adbux, go there and have a look:http://adbux.org/?r=alen0224 Maybe you have heard of it. It is a ptc program, providing dozens of ptcs everyday, and very ad is reclickable after 24 hours. What's more, it is a genuine one, I have gotten my first payment from it, check the image I upload to assure this. Its members are growing in an explosive speed, when I joined, there were only less than 100 members there, but now there are more than 25,000 members, isn't it amazing? So many people must not have wrong choices, must they? Just join and get started with your own earnings.
2 responses

• Indonesia
26 Apr 07
Did you ever paid from this program ? Is it program for international user ? Hope this program good and can make much money. Thanks for sharing your information. Best regards

• United States
26 Apr 07
I've got payment proof on my site at http://rtsweb.homeip.net/cash.html They are international. They have paypal paymnets, and are working on getting another payment processor for places that don't get paypal, I would start it, and then when they get the other payment processors inplace you can cash out. Robert

•
26 Apr 07
I am also member of adbux - it's quite good but haven't earned enough to get money just yet - getting there though _ i think it helps to have referrals.. another new one I just found you may want to take a look it's still in pre-launch but goes live 20th May and pays $5 for each referral http://www.fummo.com/?reff=19358