Our Little one: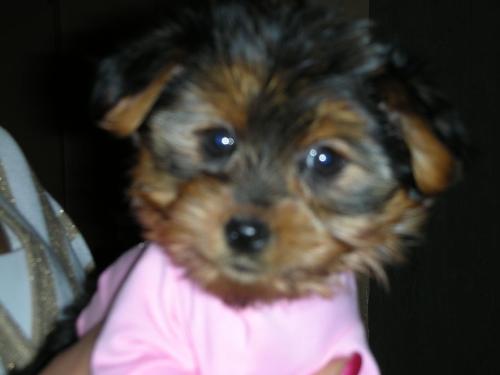 United States
8 responses

• United States
2 May 07
As a Grandmother that has been there and done that Stiffler.....i must say, Enjoy it while it lasts, take lots of picture! Life's to short my friend and before you know it those days are gone adn all you are left with is the memories of days, precious memories gone past! God Bless and God's Best for you and Your's always and in all ways! xo

• United States
3 May 07
Thank you & yes we love to take a lot of pictures:-)

• Taiwan
27 Apr 07
Hi friend, I don't have any kids, so I was wondering what a T-cup Yourkee is? Maybe I'll learn something, too. Thanks.

• Taiwan
27 Apr 07
Never mind. I saw the photo. Ha, Ha. That's the disadvantage of responding discussions through e-mail. Sorry about that.

• United States
27 Apr 07
The fact that you're responding alone is enough for me. I'm glad you know now, because you can see how sad & funny this really is:-)


• United States
27 Apr 07
I know I can't stop thinking about it ...lol:-)

• United States
27 Apr 07
Thats a good one!!! You need to put her in time out for two minutes and tell her that she cant do that she hurt the puppy. If she does it again do the same thing time out. Eventually she shoud get the point.

• United States
27 Apr 07
I guess she will get the point, however it's going to take some time. She is like her father & has a very hard head ....LOL:-) Ty 4/answer!

• United States
27 Apr 07
What do I do? Try to suppress my giggle because I would not want to encourage her. ha ha She is giving the dog a swirly! LOL Sorry...I had to get that out. How about including her in helping giving the dog a bath. Then explain that is the only time that the doggie is allowed to go into the water. Toilet water is yucky...and doggies that get put in the toilet water will get all yucky too. I am sorry I laughed. But hind sight, I hope you are laughing too. :)

• United States
27 Apr 07
Oh, I have been laughing since it happend. "Swirly" ... That's too cute! Thanks 4/answer.

• United States
26 Apr 07
shes probably just doing it to get attention, kids do all kinds of things to get your attention. explain to her the puppy can get hurt really bad if she does that and try not to laugh or smile at her be firm if she continues put her in timeout. I have a 2 1/2 year old daughter too they love to test at this age and like being the center of attention. good luck

• United States
27 Apr 07
2 1/2 God Bless, I can see from your answer you have a true understanding. It's great to hear that you uses the timeout thing also. I agree 100% that at that age they like to test. (Thanks for a great answer)


• United States
28 Apr 07
Well like most women, she is starting early. Center of attention that is where little girls want to be with their daddy's so you have to reassure her that she is more precious then the puppy and let her know the puppy is her friend. She will eventually come to know this and love the puppy but for now you have to reassure her.

• United States
28 Apr 07
She not only is the center of attention, she is the center of my world. She is 2 years old, so you know that's a lot of work. Great point, I will be sure to reassure. Ty 4/answer