How do you disipline your children?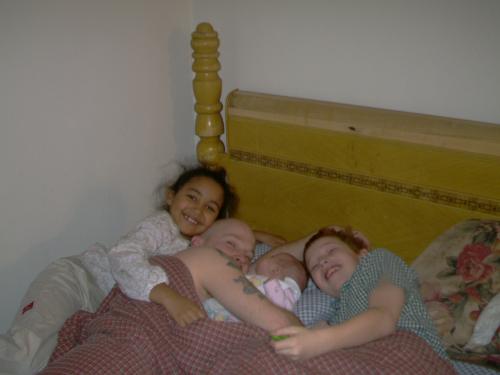 United States
April 26, 2007 8:00pm CST
How do you choose to disipline your children? Does it depend on what they had done? My children run over me because they know that I pretty much wont do anything and I know that this sounds crazy but I dont know what to do at the time that they are acting out. Sometimes they will catch me in a mood and I will either take something away from them or I will make them take a time out. There are times that they probably need more than that but I cave in too easily.
5 responses

• United States
27 Apr 07
My son is 20 months old, so we are using time outs. I explain to him what he did wrong, then he comes up to me and gives me a hug. Somedays I am so tired and don't want to get after him, but I have to do be consistent. When he's older, I'll take away toys and privelages. My mother used to take away our toys and have us do really hard chores for a week to earn one toy back, this really worked with us, no kid likes scrubbing toilets!

• United States
27 Apr 07
When they are little timeouts are the best for me. Of course it's hard work and you have to be consistant but it will pay off in the long run. Now that my daughter is 8 taking video games or the internet away works like a charm. She will even do extra chores (bathroom!)to get these back. We tried taking her toys away if she didn't pick them up but she didn't care and then I had a garbage bag of toys in my room. No matter what to do, you have to do it everytime or it will never work.

• United States
27 Apr 07
I know where you are coming from my boys are now 16, 17, and 19 and I have never been able to discipline them I also always gave in. Now that they are older and they know that they did something wrong they write out there own disciplinary actions and I go over it with them and we go from there. It has been working out pretty good. Being a single parent most of there lives I have pretty much let them do what they want, but now that they are older they are very good children, never getting into trouble, hanging out on the streets, and just listening.

• United States
27 Apr 07
I most usually take something away from her like the use of the computer,except for schoolwork, and then I watch her like a hawk. Sometimes I make her clean the house, she is 12 years old and really does not have any real chores, so it does not hurt her to do mine from time to time and she needs to learn to do things like that for herself or when she grows up, she will probably live in a heap of trash, instead of cleaning up after herself.

• United States
27 Apr 07
My daughter is 10 and is a pretty good kid. Sure she is getting moody and has an attitude at times- that is what gets her in trouble these days- She is punished by losing privledges or going to her room. Taking her phone away- or no tv for the night usually work the best- I always start it with Pooh- stop acting like that- Here is your warning- If she keeps it up she goes to her room. Usually this will stop her- If it doesn't then I take away items and privledges- No friends over that weekend- No special time or movies that type of thing!

• Canada
28 Apr 07
Many parents have this problem when trying to deal with a child who is misbehaving . We are not given a manual when they are born and have to do what we think is best and when we are unsure what to do , we can feel at a loss of how to do the right thing . Looking for advice from others parents was a start for you and that is always a good way to try and find what idea you like the best . I have always found consistency the best way to start , it takes time to be able to do this and we will never have all the time we need but each time a child does something that we know is wrong we need to find a way to take the time to improve on the behaviour . I have always found that in life we are given choices and it is our choices that determine what the end result will be so I try to do this when I am trying to discipline my children . I give them the option to change the behaviour or accept the consequences and to do this I will count to three , at the end of three they know what the outcome will be weather it means going to sit on a chair for the lenght of time they were misbehaving plus there age ( this works best with little one's ) or being sent to their room for a period of time or losing something they want to do or something they enjoy doing . If I reach three and they still have not stopped then they get the punishment they were told ahead of time about so I feel this gives them the option to decide what will be the outcome . I find this has always worked for me but everyone will have different idea's that will work . You need to try different things and find which works for you . Doing this when they are young is important for when they become older , habits are much harder to quit and the behaviour will become worse from years of getting away with something and will lead your children to be confused about why they are being penalized for something they were never in trouble for doing before . You have to pick which battles are worst and be able to let some things slide but you have to make sure they know what is acceptable to you so they know what is acceptable for them . Best of luck !!