A New Generation Of Hunters!!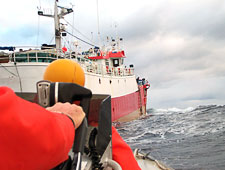 Australia
April 27, 2007 2:12am CST
Customs officers approaching an illegal fishing vessel The Australian Customs Service is try to control do you have this kind of problem in your country. A hundred years ago it was seals and whales that were pushed to the brink in Antarctica by a hunting frenzy. Protection has seen some of these animals recover since the middle of the last century, however, in the latter part of the 20th century a new generation of hunters has arrived - pirate fishers seeking fish and krill. Pirate fishing is illegal, unreported and unregulated fishing which continues to plunder valuable fish stock and kill tens of thousands of seabirds each year through bycatch. Bycatch occurs when seabirds see an easy meal near the fishing boats and are drowned when they are caught on the long-line fishing hooks dragged behind the boats.
1 response

•
27 Apr 07
This is so sad - I know everyone has to make a living but we have to think of the envionment and maintenance of these wildlives! Here in the uk fishing rights are regulated by the eu - the way waters and fishing rights are distributed isn't always done fairly, at least we know someone cares about what is happening!