Do your kids get an allowance?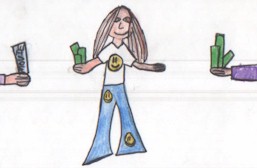 United States
April 27, 2007 9:47am CST
or do you just give them money to buy and go places? I'm thinking of truly going back to the allowance system because they're breaking the bank lately! Having 3 teens, at least one works, is just too darn expensive. Every week it's glow bowling, movies, dances and more. Do you give your kids an allowance? How much? How old are they? Do you give extras sometimes for special occasions or do they have to use their money wisely and figure out what they want to do?
2 responses

• United States
27 Apr 07
When my kids were at home, I tried the allowance program. For some reason it really didn't work for us as a family. As teens, (my kids were almost five years apart), I would just give them money as needed and as I saw fit. My daughter always held a job, from the time she was 15 so she usually had her own spending money. But I'd give her extra from time to time. I was lucky they both weren't teens at once. It's harder now, I think, with the cost of things, I couldn't imagine having to dole out for three teens activities and wants. Bless you...I'd go back to the allowance routine if I were you, and let them budget how they want to spend their money.

• United States
27 Apr 07
I'm thinking that might be a good idea for me too! LOL My oldest does have a job and my other two would get jobs if anyone around here hired at 15 but I'm kind of just as happy they don't have since it's not exactly easy lugging 3 kids to jobs, not to mention no car at the moment anyways!

• United States
27 Apr 07
I just started a few weeks ago giving an allowance. My daughter is 10; she made a list of what her chores should be for the week. I was pretty impressed; she even put things on there that I would not have thought of. When I asked her how much she should get a week-- $3 : ) lol I said let's start at $5 (her list is long). This has worked for the last 2 weeks. I still give her money for extra things when needed. We went to the drive-in last weekend and I paid her and her friends way in and bought the snacks and stuff-- I told her to keep her money for the items she wishes to purchase- sunglasses, purses, new clothes (above and beyond what I buy). She is saving her money up for the newest Heeleys. So yes I do give an allowance- I give extra when she does extra- Last weekend we raked the flower gardens and dusted and cleaned the whole upstairs—She got $10 for the week instead of $5. When we spring clean she will get more- She doesn't ask for it- but she deserves it!