pet food recall update: what every pet parent should know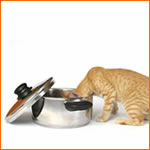 United States
April 27, 2007 12:22pm CST
I got this article in my email today and thought I'd help spread the word... PET FOOD RECALL UPDATE: WHAT EVERY PET PARENT SHOULD KNOW As the pet food recall widened last week to include certain products containing rice protein concentrate, the ASPCA has issued new recommendations for pet parents looking for advice on what to feed their pets. "As new products are recalled, there is obviously great confusion in the public space about what is and is not safe to feed your pet," says the ASPCA's Dr. Louise Murray, Director of Medicine, Bergh Memorial Animal Hospital. "We've prepared some guidelines that we hope will be helpful to pet parents and veterinarians alike." ASPCA experts suggest the following: - Based on information made public by the FDA last week, the ASPCA recommends that you should not feed your pet any foods containing wheat gluten or rice protein concentrate. - Given that the source of contamination has thus far been identified as coming from outside the U.S., you may wish to check with your pet food manufacturer as to the country of origin of any protein concentrate used in its products. - If you suspect at any time that your pet has ingested food that may be contaminated, call your veterinarian immediately. - Stay alert for early signs of a problem that may be recall-related, such as excessive thirst, decreased appetite or vomiting. - If you think your pet is critically ill and you cannot reach your regular veterinarian, please call the ASPCA Animal Poison Control Center at (888) 426-4435. Please check the ASPCA Pet Food Recall Resource Center ( http://www.aspca.org/site/PageServer?pagename=recall )regularly for additional information, including updates about foods that were added to the list of recalled products yesterday. I really hope all this gets sorted soon and we wont have to worry so much. We have four dogs and a cat so it's rough. I feel for everyone who has lost one of thier beloved pets because of this.
4 responses

• United States
27 Apr 07
That was very informative information—thank you! I cannot believe how many items have been recalled. I have thrown out all soft cat food and treats- I just do not want to take that chance. So my cat is only getting hard food right now and occasionally milk. She so misses her treats too. We have 2 dogs and they are strictly on dry dog food also. Until the mess gets straightened out. It's pretty bad that we have to be so careful what we feed our pets. I'm not ready to start soft foods yet—even if they say they are fine. I too feel bad for all owners who have lost a pet or have a sick pet from the pet food recalls.

• United States
27 Apr 07
The latest info points to a pesticide that contaminated the wheat gluten and rice. This was a huge recall!

• United States
27 Apr 07
This is so scary. I only have one cat right now,I have been making her food,and grinding it up. If I buy food I check the labels carefully.

• United States
28 Apr 07
omg! i am so frightened that what I buy may contaminated even thought they say the food is safe! I just don't know what to do!