Is the world over-populated?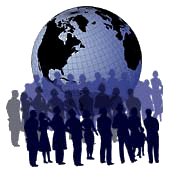 Philippines
April 28, 2007 12:30am CST
Have you ever been to a city that's not over populated? Can you give me a city where there is no heavy traffic? No long lines waiting for your turn to do something? Do you think the world is over populated or is it just conjested in certain parts? Of course if you go to the countryside you won't see any problems with traffic. But how come some people blame poverty on over population? I don't think the world is over populated, it's just that resources are not equally distributed. The rich become richer and the poor become poorer. Survival of the fittest as they say but is this right? What can and should we do about this?
2 responses

• Israel
28 Apr 07
I don't think that the whole world is over populated. There are some places in the world which are over populated and some places which not. I agree that in the big cities in big countries like New York, London etc.. there are lots of people and this caused for heavy traffic and really long lines. Although, in this cities there are many tourists- what makes that cities even more crowded. But on the other hand, there are many places and countries in the world which people prefer living in farms, villages etc... and in this countries the population is low. Most of the people want to live near to big cities and because of that the population in this areas is growing. Although many new babies are born every seconf in the world what increases the population. I think that sometime in the future our world will be even more populated than nowadays...

• Malaysia
28 Apr 07
nope.. this world is not overpopulated at alll... in fact, populations are getting lesser and lesser every year.. the cause is still unknown.. but they believe it has something to do with religion.. i understand you will think that this world is overpopulated when you see poor countries.. but it's not the same with rich country.. if you want a city that is no heavy traffic.. let's take china.. there are lots of city in china.. and i'm sure only the big city has heavy traffic.. the rest.. just mild traffic.. don't you think so? china is really big you know...