What the blip do you know - about nerve cells?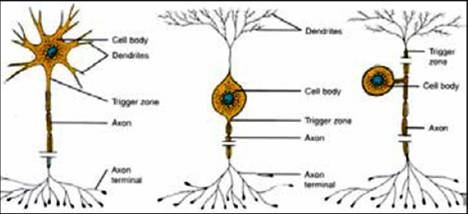 Israel
April 29, 2007 1:13am CST
Our nervous system is composed of two main types of cells. One type is called Glia cells. These cells are the maintainence cells which are responsible for "grizzing and oiling" and all other maintainence required for the other type of cells to work properly. There are many types of Glia cells with various "jobs". One of these "jobs" is to encircle Axons (keep on reading to know what it is) with myalin - a fatty substance that is used for insulation. The other type of cells, which most of us know about, is neurons. Neurons are composed of 4 main areas: 1) Soma - cell body. 2) Axon - a "tube" which transmits data from the soma to the next cell. The output section. 3) Dendrites - the "input" section. 4) Synapses - The messege recievers on axons and dendrites. Composed of a presynaptic terminal on the axon and a postsynaptic terminal on the dendrite, with a "chasm" of about 20-50 nanometers between them. The main activity is done in the synapse. Axons and dendrites in mammals are usualy enveloped with myalin, which makes signal transduction better, because it indulates them. Since the signal in Axons and Dendrites is elecricity, insulation helps it move faster and farther. Animals without myalin must have bigger Axons to react faster. When an axon fires, it is called Action Potential, which moves to the next neuron's dendrite and tells him something important happened in the previous neuron. This is the messege the goes in our brain. We are born with a certain amount of cells in our brain, and almost no new cells are born thorought life. There is a phenomenon called sprouting, in which Axons and Dendrites take the place of dead cells. This fact is used in the Hungarian method of treating disabled children. A disabled child is put on a hard plate and cannot move. Since it is painful for him, he moves what ever he can (even just flinch his eyes and moves his fingers). The live sensory part excites the dead motor part, and the live motor cells take the place of the dead ones by the means of sprouting. There are many types of cells (look at the picture to view 3 of them) and they differ by the action potential firing rate, size, form etc. How does an action potential moves from cell to cell? In the synapses there is a substance called neurotransmitter. When an action potential gets to the synapse of an axon, it opens tunnels and allowes the neurotransmitter to go out of the terminal of the axon and enter the terminal of a dendrite via the "synaptic chasm" - and this invokes a rise (or sometimes a decrease) in the potential of the dendrite, hence creating an input for the next neuron. As said, there are many types of cells, and there are many types of neurtransmitters. The variety in the human CNS (central nervous system) is the largest we know of nowdays. This is the picture at large. As usual, any questions, remarks and supplements are more than welcome.
4 responses

• India
29 Apr 07
I read whole discussion of yours and found it very good. I have to add just few words on same topic. Nerve cells and neurons are different names for the same type of cell. The location of the cell might alter its behavior or structure but they are all still neurons. They are obviously largely located in the brain and spinal cord, but there are vast numbers of neurons outside of the central nervous system, including all of the so-called 'ganglia' that control autonomic function for example. Neurons generally speaking have a cell body, an axon, and dendrites. The axon is used to transmit their signal to targets, and their dendrites are used to receive input from the neurons that innervate them.

• Israel
29 Apr 07
You are right about the names, only Glia cells are not considered as neurons (or at least not the way you described them). Of course there are neurons outside the CNS - in every place there are neurons who get input from the outside and pulse it inside. Your intenstines are filled with them... Thank you for your summery.

• Israel
29 Apr 07
This is very interesting yonatan, but can you tell me about a thing that interests me, that has to do with the renewal of the cells. It is well known that organs in our body have the ability to renew and build therself again, from damaged to totally healthy organ, how does this happen? how do the cell renew themselves?

• Philippines
29 Apr 07
thank you, healthkeep, for this thorough discussion about the nervous system. it is very informative and can be helpful in some ways.

• India
9 Oct 11
There is lot of information to know about Nervous System of man, in addition to these details. It is very important information and i havent know this before. I also want to share this article on Nervous System of Man. http://www.boddunan.com/education/20-medicine-a-surgery/9185-nervous-system-of-man.html Hope this is useful for beginner who want to know nervous system