Gangstersgreed paid for doing offers could be trustworthy enough - i have proof!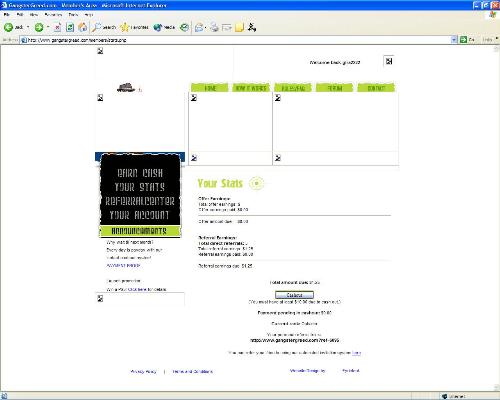 Australia
April 29, 2007 4:25am CST
Now, i will never try to falsely advertise to people about a site just to get referrals - i want to get referrals in a system built on honesty and trust and of people offering to become my referral. The thing with this site - Gangstergreed is that the offers you sign up for is only available for U.S. residents only - that's the problem i have - because I live in Australia - i cannot earn money from their offers. I can only earn through referrals. Now - i have never been successful with getting referrals for any of these pay sites so i did not think i had much chance - i had advertised a few times on a forum. I decided to just forget about this site because i couldn't get any earnings from it - but today i went back and had a look at my stats - what do i see? 3 referrals and they have earnt me $1.25 since they joined! now i would only get 25% of what 1st line referrals earn - so if i already got $1.25 from them - at least one of them must've earnt 4 times $1.25= $5 in a couple of weeks from completing offers. that's a hell of a lot better than other sites where ive only earnt about 30c - and most of the offers require a credit card which i don't have one. Now if you are a u.s. resident and you want a site which actually pays ($10 minimum payout) and you can actually earn more than 1c a day then this one is the most popular one. You can look around in http://gptforum.com and they will show you proof of payment. Please, if anyone who lives in the u.s. joins then show me thanks by using me as a referral. here's my referral link: http://www.gangstergreed.com?ref=6095 please click on the picture to see this proof - i am sorry that the picture is not so clear - if you would like a better quality picture just message me.
No responses