Which political party is more credible? Team Unity or Genuine Opposition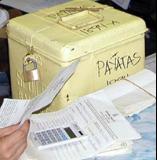 Qatar
5 responses

• Qatar
29 Apr 07
In general the two party for me is non-credible they both dogs of society that howls and barking at each others. But given the situation of our government system which could not be changed overnight well I would choose the lesser evil among their ranks. Sahee!

• Philippines
30 Apr 07
I must agree with you in some point. Yes, and to add up something, we don't have really the best choice cause everyone may have it's hidden agenda. "In all baskets of fruits, there are one or two which is rotten". All we have to do is choose the lesser evil.

• Philippines
30 Apr 07
i would get most of my senators from the genuine opposition. it is not that i am against with the administration but i really think that they really deserve the position the senatoriables wanted. they really are so helpful in ways the general public can't observe. more so, the senatoriables in the Team Unity are mostly TraPo.

• Philippines
29 Apr 07
The most credible? I would say it's the Kapatiran party. If you don't know much yet about them, I hope you could find the time to read more about their platforms and goals for the Philippines. Of course I am definitely voting for Pangilinan! As to TU and GO, I have my individual choices from both parties and wouldn't think for the world of voting straight from either one. Both have dubious candidates who shouldn't be given a chance for a senatorial seat, ever!


• Philippines
4 May 07
Hello stryker!(",) I don't think that the two parties are credible.(",) Honestly, it seems that politics in the Philippines has become even dirtier/worst in this time. I just hope that whoever wins this coming election should do his/her part well. I hope that he will truly serve the Filipino people and give the best service. So bad, that I can't vote this election because I was not able to register. To all the Filipinos out there, please vote wisely for the future of your children!(",)