Do you love fresh mushrooms?

United States
April 29, 2007 4:45pm CST
It rained all week and this is the time of year where wild mushrooms grow with the rain. I was lucky that someone was sweet and remembered how much I loved them so they gave me a bag of them. I am right now getting them ready to fry for supper. I love fresh mushrooms they are the best. Do you like them and do you you get them wild in your area?
9 responses

• United States
29 Apr 07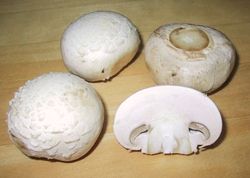 Aren't you the lucky one!!!?? I went to the little store in my neighborhood today looking for fresh mushrooms to put on my homemade pizza. Well, it is not exactly homemade...I had the frozen crust in my freezer and I wanted a veggie pizza. I used tomatoes, peppers, onions and garlic for toppings. All that was missing were the mushrooms. I love mushrooms. I love them in salads, omlets and of course pizza! Enjoy your mushrooms and take care...


• New Zealand
30 Apr 07
Hey Tricia, After the rain, the mushroom always seems to pop up in our farm paddocks, and my children and I love to go out and pick them, I would wash them up and cook creamed mushroom to pour over our steak... Yum!!! And these are as wild as you can get lol


• India
30 Apr 07
we get plenty of mushrooms in the vegetable markets all through the year. they are neatly packed in polythene covers and always. we are not a regular eater of mushrooms but make sure to add in our meal atleast once a week. mushooms and peas make a good dish.

• United States
30 Apr 07
I really do love to eat fresh mushrooms! I used to eat them every year when we lived in Kansas. We used to go out after the rain and look for the morel mushrooms, I miss eating them. I wish that they grew here in New Mexico!


• United States
30 Apr 07
I do very much enjoy fresh mushrooms - whether I eat them raw or saute them in some butter. they are fabulous! A lot of people mushroom hunt in this area but I have never had a wild mushroom (that I am aware of) I have been waiting for 7 years to try the very highly praised Morrels, but for me it remains elusive. even with 5 wooded acres on our property.

•
29 Apr 07
Absolutely! I love fresh wild mushroom soup. Mushrooms do not grow wild in this area, because it is urban. I have been given fresh wild mushrooms from a friend in the countryside and made wild mushroom soup with it. It was lovely! I can reccommend it to anyone. I would say that if you are picking wild mushrooms it is important to learn about them first.