A pet dog or a pet cat?

Philippines
April 30, 2007 8:24pm CST
If youre finding for a pet, or planning to get a pet, what do you like, pet dog or pet cat? or what pet animal do you like to have? I actually go for both, good thing is my cat Tigress and dog Uki learned to get along already. I have an officemate and their house is like a zoo..they have lots of animals from different species of snakes, to scorpions to tarantulas. It may not be that cute to look at it and be around it but they love it! i wish i have the courage to start things like that.
6 responses

• Romania
1 May 07
I like both, but o have just a cat because I live in an apartment and i can't have a dog. I think that is more easier to have a cat than a dog because the cat doesn't have to go for a walk, doesn't need so much food, doesn't need so much place.

• Philippines
2 May 07
im actually planning of getting a cat in my new house..im getting lots of mice going around and i need to get rid of them fast!

• Australia
1 May 07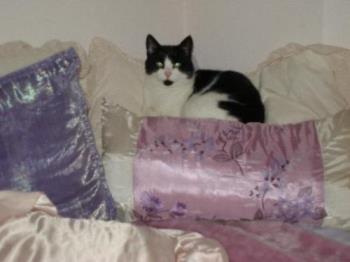 I love dogs but I have always had cats, they have come to me and I keep them, but all my friends are dog lovers and a couple of times I have baby sat their dogs for them when they go away and I have found them to be a lot of hard work compared to a cat, so I think I am more suited to a cats life style...

• Philippines
2 May 07
yeah, coz it OK if we dont bathe cats..we even have this old belief that its not good to bathe cats because it will cause lightning...but it never happened to me though.

• Indonesia
1 May 07
To chose a pet is depends on what are you looking for. If you are looking for a pet to cuddle with, you're more likely to find that in a cat than in a dog. if you want a pet to run around with outside, and get exercise with, then a dog would be a better choice. Cats really help keep mice in check in an older farm house. Dogs do an excellent job of letting you know when someones arround. For me, I will chose dog as my pet. Dog is really funny for me, it's cute. i would prefer dog than cat.

• Philippines
2 May 07
yeah! my pet cat helps us keep mouse away...and dog to watch the house at night..it never fails.

• India
2 May 07
i would like pet dog not cat some time only i love cat but dog lisents to what ever we say to him ok

• Philippines
2 May 07
yup! dog is men's best friend.

• Philippines
4 May 07
its been known all along that dog are men's best friend..they take care of you too..theyre like human beings...


• Netherlands
2 May 07
So far, we have only 2 gold fish. I'm not against dogs or cats, it's just taking care of them is my other problem. Besides, my father in law who live next door has 2 siamese cat, so when my daughter will play with house pet, she just go to her grand father.

• Philippines
2 May 07
we have smal fish pond though owned by my brother..not much of a maintenance..you feed them and its ok...dogs and cats takes a lot of taking care .

• China
2 May 07
i like a pet dog more than a pet cat! i think dog is loving and cute!

• Philippines
2 May 07
thats right! if theyre clean, we can cuddle with them.