Have you ever had a Henna tattoo?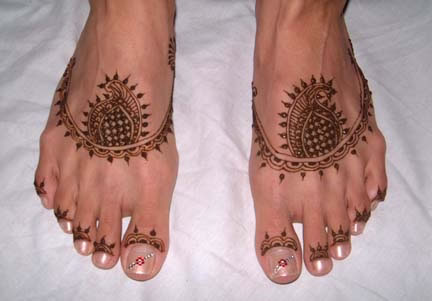 United States
May 1, 2007 12:23am CST
I adore the intricate patterns of henna tattoos and have wanted to get one for a very long time but have simply never had the opportunity to do so. Have any of you ever had a henna tattoo? Does it take a long time? How easy does it wash off? How long does it last?
3 responses

• United States
3 May 07
whatever you do-stay away from "black" henna. it's not true henna,and causes chemical burns on some people. check this out: http://www.hennapage.com/henna/warnings.html true henna is awesome tho.i had a design last almost 3 weeks once :)

• United States
4 May 07
Yikes! Those are some graphic images. Thanks for the warning. I'd never heard of black henna.

• United States
10 May 07
you're welcome:) ~and thanks for best response:)

• United States
10 May 07
No worries! In the meantime, I found an awesome page: http://www.hennatattoos.com/ .


• United States
3 May 07
I got a henna tattoo done while I was visiting New Orleans several years ago. I think it took about an hour to do, and it was just some intricate scrollwork and flowers on my hand and wrist. The thing about it was that they told me to keep the henna dry for several hours, so I was careful to follow the directions. Unfortunately, they didn't tell me that chlorinated water (like in a pool or hot tub) would make the design fade a lot quicker. We went in the hot tub that night, and by the next day, the design was almost gone. Big waste of money, in my case!

• United States
3 May 07
Thanks for the warning! I didn't even think to ask about cost, though I imagine some of them might be very expensive.

• Philippines
1 May 07
I had a henna tattoo of a gecko on my hand before. it extends from my hand to about 2 inches of my arm from the wrist. and then a crucifix on my nape once. if you choose a simple design. it won't take that long. very simple designs may take only less than 30 minutes. it will only take long if you plan on choosing intricate designs.. it won't wash of with soap and water. that way you can take bath without your henna tatoo rubbing off. i had to use baby oil to remove it. depending on the quality of the henna used i can list for more than 2 weeks.

• United States
1 May 07
Two weeks?! Wow, that's awesome. The design in the photo that I added must've taken hours, given how intricate it is. Now I'm all the more anxious to get one. Thank you for the reply.