Save your snagged sweaters with this little gadget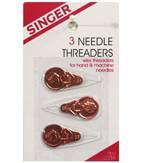 United States
May 1, 2007 11:08am CST
I love to wear sweaters. I don't like getting snags in them though. Unfortunately, many things will cause snags & we can't prevent them all. Years ago, I was introduced to a little gadget called a knit-picker. It could easily repair snags in your clothing, but I haven't been able to find them anywhere for years. Because I remember how it worked, I wanted to pass along some information that will help you repair your snagged sweaters (or other clothing) instead of having to throw them away. If you've ever used a needle threader, as I've attached below, you'll soon see just how easy it is to make these repairs as long as the snag isn't too bad. Unfortunately, it only works for minor snags and on loose weave materials. Notice the little wire at the tip of the needle threader. While it's primary use is in helping thread a needle, it's flexibility helps make it useful for pulling loose strings thru to the inside of the sweater. All you have to do is push the wire thru the material as close as possible to the snag. Be sure to push it thru from the inside, then you just tuck the snagged string thru the wire & pull thru to the inside. Voila! Instant & easy repair for less than $1. :)
3 responses

• Gold Coast, Australia
2 May 07
What a handy little gadget! I have a few in my sewing stuff but never used them for threading needles as I find I don't need them for that, but that's a great tip you suggest about mending snags on sweaters. I will have to remember that next time I snag a sweater. Such a simple idea too - many thanks.

• United States
3 May 07
Works on most snagged clothing if the weave is loose enough to get the wire thru. :)

• India
2 May 07
I have copied and mailed the tip to my two daughters in Bangalore. They will be in need of it, because the winter there is too cold and they use sweaters. We in Kerala don't use sweaters because we don't experience that much cold winter here. Thank you madam for the tip.

• United States
3 May 07
You're welcome. Your wife could probably repair the next snag you get in your clothes too. It works on more than just sweaters. I just happened to be repairing one of mine before I wrote the post. :)

• St. Catharines, Ontario
1 May 07
I've used this method before. I've also used just a (large-eyed) needle itself, other times a very fine crochet hook. (Yes, I'm very ingenious... I even used a disposable razor to get rid of pills, long before someone developed the "sweater razor"... we're talking 40 years at least!)

• United States
1 May 07
LOL, I almost added the tip for cross stichers like yourself. You are a very ingenious lady indeed!