Little league is driving me to the poor house!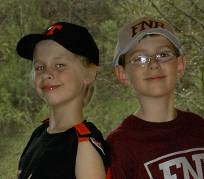 United States
May 2, 2007 8:07am CST
My twins (boy and girl) are in little league and it seems as though they always need money for something!First it was the the registration at $25 each. THen came the gear:$80 bats for each of them $46 helmets for each of them $55 glove for the little boy $38 glove for the little girl $80 in two pairs pants and socks for each of them $70 cleats for little boy $35 cleats for little girl OK...I thought, now we are set! BUT WAIT! All of these practices and games mean driving from my house 8 miles away to practice sites. So 16 miles a day worth of gasoline a day for 6 days a week!OH NO...what about food! Most of our practices and games are right after school, so we end up eating out at a McD's or another fast food joint too!I fear that I am going to have to take out a loan for them to enjoy a sport. (LOL!) What are your experiences?
10 responses

• United States
2 May 07
YES! I totaly agree! So expensive. My boys didnt get to play this year because my husband was gone, just came back and then leaves for 6 months, so I wasn't sure I was up to dragging everyone to all the practices and games this time around. But last year it was like $40 for each boy to have cleats, a whole bunch for the gloves, $40 for each kid to be registered for the team and yeah we had the same food problem! They'd get home at like 4pm and do homework, and it would be time to go to practice at 5pm! Then it would be done between 6-630 and there was no time for cooking since we'd still have to do baths and what not. SUCKS! I am dreading soccer season, I guess I am going to have to register them for that in September when i'm 8 months pregnant, and alone with 4 kids, ahhhh!!

• United States
2 May 07
OMG I forgot to mention your kids are SO CUTE!! Love that picture of them!

• United States
2 May 07
It is indeed crazy how much it costs for the kids to play sports these days. Especially with the registration fees, your $25 registration fees aren't too bad, i think ours is at least $40 per kid.

• United States
2 May 07
THANK GOODNESS our school supplies uniforms, bats, & helmets for the kids to wear!!! They still have to pay for their T-shirts ($20), cleats, and gloves. I don't think I could let my kids go out for anything if I had to buy everything! sheesh! Gas, I know, and the prices keep going up. Food... maybe picnic dinners?? You could stock up on peanut butter and bread, carrot sticks, and juice boxes. Maybe boxes of raisins, and little debbie snacks for dessert. Good luck to those cuties! I'm sure they'll have a good time no matter how expensive it is. :)

• United States
3 May 07
Thanks for your response. I actually made sloppy joes in a crock pot and took them to the field today, along with a bag of chips, pickles, sliced tomatoes and shredded cheese. The kids absolutely loved the picnic! Thanks for your response..here is a positive rating for you!

• United States
3 May 07
Yum! I may have to go to their little league games!!! Another idea could be "walking tacos"--taco meat, cheese, other toppings put inside a single serving bag of dorito chips. This could be eaten either hot or cold. :) My kids love these!!

• United States
2 May 07
Good Gravy Lady!!! that is ridiculous! it is really a shame, such expenses prohibit a lot of people from doing a sport or at least continuing in it. It should be nearly free. The uniforms should be donated by a sponsor (local grocery or auto shop etc) The bats and gear should be provided by the team (school?) and get used year to year. I think the only thing you should have to buy yourself is the shoes...with the option of buying used ones from previous players . (myself, I do not like the idea of used shoes) The registration fee is high enough that some of these things should be taken care of already!!! the team also makes money on the concessions - so why all the expenses?? My daughter took clog dancing (Irish dance is not available anywhere near us) We paid $18 a month for once a week lessons and $30 for the shoes. whenever a performance was done the outfits were provided for by the dance company. We had a 90 mile round trip commute though. My son played Basketball - there was a $5 registration fee and the only other thing he needed was athletic shoes ... He also did karate for several years, that was expensive. but as soon as he made black belt the lessons were free. prior to that we paid $75 a month, plus on going costs of uniforms as he grew ( he needed both black and white uniforms depending if they were going to a tournament or not) and the belts cost around $25...I got heck once for buying a belt (it was his red belt) at a sports shop (cost me $8) instead of from the dojo. They refused to present it to him at the awards ceremony. The owner was livid with me. funny I never read in the rules that you had to buy the belts from them - she yelled at me that it is about school spirit! we moved out of state the month after he received his black belt so never did get the advantage of free lessons after that!

• United States
3 May 07
Well, I understand where you are coming from..I have 3 sons...they all bowl in a league..One plays little league and one is in t-ball... Saturdays are shot, because they have bowling and my little one has t-ball..and bowling is paid weekly ($21.00) You got a break on your registration...where i'm at it was $50.00 a piece...but everything else for us was fairly reasonable..probably spent about $150.00 in cleats, pants, gloves, bats...oh yeah and bat bags :( Me and the poor house are ready to become good friends..but as long as my boys are having a good time, I guess that I'll keep shelling it out :)

• United States
2 May 07
I'm sorry! Mine didnt want to play this year its a good thing my son broke a finger. But yes it is alot! Maybe if they stick with it they can use some of the same stuff again next year, and it won't seem like so much! Our little League man those people are baseball Natzi's. I was ready to just pitch a tent right there. We almost lived there! LOL

• United States
2 May 07
Yes, extracurricular activities will cause you to want to take out a second mortgage on a home! The prices of things are outlandish! Not to mention the excessive stuff like gas, food, so on and so forth. It is up there and you have two!!!! Wow, you must never get to sit and rest!

• Ireland
2 May 07
Oh my god! I though our hockey fees were expensive, but they don't come anywhere near that and we can use a lot of the equipment from one year to the next or at least pass it down. I hope they remember to say thank you and do something very speical for you on Mother's day!

• United States
3 May 07
I was going to sign my children up for baseball this year until I seen just how much it was going to cost. The registration only for each child was eighty dollars. Their shirt was provided with that. Then there was the cost of buying the pants, the cleats,and helmets. My children already had the gloves. I was willing to do all that. But then I got told that none of their games or practices were going to be in the small town we lived in. We would have to drive the children to different towns that surrounded us for games and pratices. Closes one being eight miles up the road the furthest being forty one miles away. While I would love to be able to afford this I jusy couldn't see being able to do this for all three children. There have been a few of us parents who decided to just have our children play ball with one another a couple of times a week for fun. I am sure that they children would have had fun playing on a league team but I believe this is just as good.

• United States
3 May 07
It seems as if any activity that we have our children participate in is getting more expensive but probably more so with Little League. I remember when I was in little league we did not need to purchase helmets as they were supplied by the team and manager. We had to get most everything else except for the uniforms. Things are much more expensive now than when I was that young so it has to be more difficult on the parents to pay for all the items as well as regular household items and supporting the family. We definitely can not forget about the price of gas if we have to drive a distance.