What paint colors do you have in your house?

United States
May 2, 2007 1:45pm CST
The paint colors in my house are very neutral and I need to spice it up a bit. All the walls are ivory or off-white(okay we do have a green bathroom). My kid's rooms are cute and painted in bright colors, but the rest of house is ready for a change! So what paint colors do you have in your house?
4 responses

• United States
4 May 07
The walls in our house are all the same as yours. I want to paint them so badly and I know the colors too, I just do not have the money right now to do it. I think we are just going to focus on one room at a time and slowly do them. I want to start with the front guest bathroom first because it is the smallest and will be the least expensive. I want to paint it a very light pale green. Right now the colors in that bathroom are a sage green, cream, white and a touch of burgundy. I want to keep the same colors just paint the walls green and put in white baseboards. I want to also put in wooden flooring, remove the large mirror and replace it with a framed mirror and light fixtures. I would also love to take out the sink and put in one of those bowl type sinks with a new faucet. The shower is fine, just needs a new shower curtain. I like the one I have but it has a couple of stains from when I colored my hair and wasn't careful with the splashing I was doing. *oops* I have big plans for my house, if only I could win the lottery so I could make it happen! My son's room will be after the bathroom and it will be in somewhat of the same colors as the bathroom (greens, white and browns). Our house is mainly greens, reds, creams and white.

• United States
2 May 07
well my kitchen is home depot orange, and my living room is peanut butter, the bathroom is about to be red and white. the bedrooms are pretty boring come to think about it, i guess we need to work on those rooms.

• Sweden
2 May 07
In the livingroom we have a light orange color and it is so nice. it gives some color and also it is not true strong. The kitchen goes all in light grey - very nice.. The hallway is lightgreen.. I just had it all renovated and i am so happy with the way it turned out. Tomorrow I will also have our new coach arrive, so all will be sooo nice - like a new home.

• Philippines
9 May 07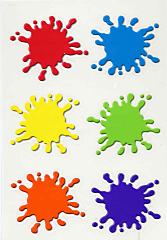 Our apartment is not colorful.. The colrs that we have here are just white and brown.. A house that has a pink room, green room, yellow room, blue room, purple room would be nice hehe but the colors should just be inside the room not up to the door..